Event held Oct. 24 at Penn State DuBois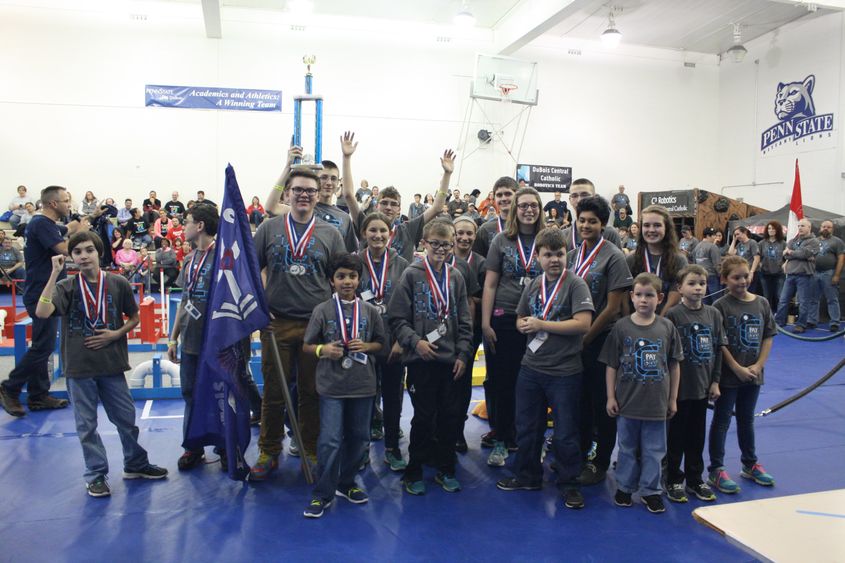 DUBOIS, Pa. — For the second year in a row, DuBois Central Catholic (DCC) has taken first place in the BEST (Boosting Engineering, Science and Technology) robotics competition held Oct. 24 in the campus gymnasium at Penn State DuBois. Rounding out the top three schools were DuBois Area School District in second place and the Wider School in third place.
All three schools will advance to the Northern Plains BEST Regional Championships to be held Dec. 3-5 at North Dakota State University.
BEST is a national robotics competition for middle and high school students. The BEST organization provides all necessary parts and equipment for teams to build a robot that they can use to run a course and perform specified tasks. The theme of this year's BEST, titled "Pay Dirt," was based on deep mining techniques and the design, construction and operation of the machines utilized in mining. The robots had to be built within a six-week time frame. During the contest, all teams ran the course, competing for the best times and course completion.
Each team's performance in robotics, as well as its engineering design notebook, marketing plan, and other areas of the competition were tallied and combined to achieve a total score.
Through participation in this project-based program, students learn to analyze and solve problems utilizing the engineering design process, which helps them develop technological literacy skills. The goal is to better prepare these students for further education and careers in STEM (science, technology, engineering and mathematics) fields.
"This is awesome, winning two years in a row," said DuBois Central Catholic student Pedar Garred. "We just tried to stay dedicated the whole year."
"It's the kids," said Ruth Pife, DCC's team mentor. "They work so hard and never give up. They just kept believing the whole time. I'm so proud of them. They dig deep when they need to and inspire each other."
Awards were also given for performance in specific areas, such as in the robotics competition only. For their performance on the robotics game field, DuBois Area School District took first place, Ridgway Area School District claimed second place, DCC took third Place, and Redbank Valley School District came in fourth place.
Teams also compete and receive awards for other areas of the project, which include marketing, exhibition, sportsmanship, and team spirit. In addition to taking first place in the overall BEST Competition, DCC also claimed the marketing award, the team spirit award, and the best team exhibit award. DuBois Area won the best engineering design notebook award.
Other awards included the best team T-Shirt, given to DuBois Area; the best team flag, awarded to DuBois Central Catholic; the Founders Award, earned by DuBois Area, most robust robot, to DuBois Area, and best software design, taken by DuBois Central Catholic.
All teams participating in BEST at Penn State DuBois this year included DuBois Area, DuBois Central Catholic, Redbank Valley, Clarion-Limestone, Wider School, and Ridgway Area.
"I would like to thank each of the teams for being here today," said Melanie Hatch, Penn State DuBois chancellor, as she addressed the crowded gymnasium. "Your energy, enthusiasm and talent are literally vibrating off the walls."
Students from The Kurrent Youth Media Club in DuBois and the Digital Media Arts program at the Jefferson County-DuBois Area Vocational-Technical School collaborated with DuBoisTV to create an educational television production featuring the BEST teams as they prepared for the competition. The show, hosted by local middle and high school media students, premiered on DuBoisTV (Comcast Cable Channel 19) on Friday, Oct. 23, but it is also available to view online at www.duboistv.net and www.thekurrent.org.
More information about BEST at Penn State DuBois can be found at http://dubois.psu.edu/best.
BEST at Penn State DuBois is made possible by the Fairman Family Foundation, Comtec, Atlas Pressed Metals, Abbot Furnace, Miller Welding, Eastern Sintered Alloys, Symmco, and the Missile Defense Agency.