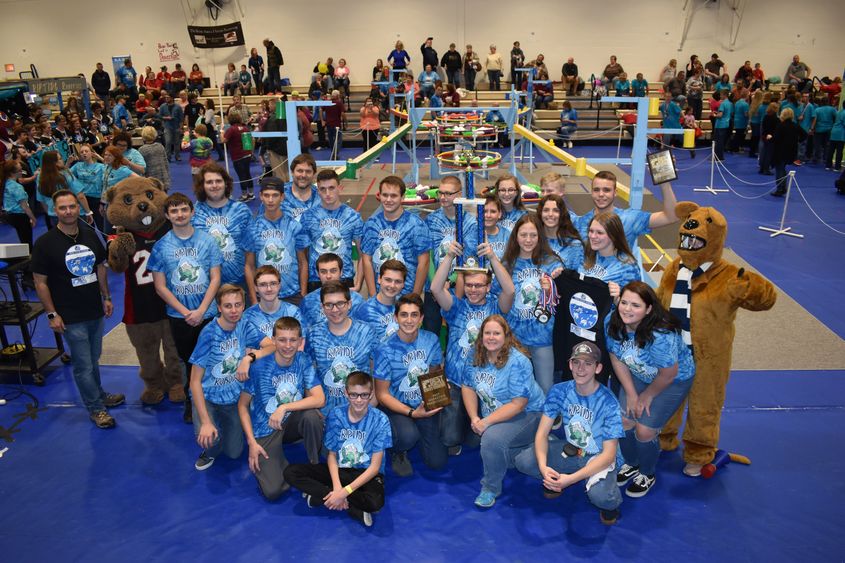 DUBOIS, Pa. — For the third consecutive year, DuBois Area High School has taken the top spot in the BEST Robotics Competition at Penn State DuBois, the first round of a national robotics competition for middle and high school students. Rounding out the top three in the overall BEST awards are Redbank Valley High School in second and Cranberry Area School District in third.
Taking the top spot in BEST means the team's performance in robotics, their engineering design notebook, marketing plan, and other areas of the competition were all tallied and combined for a total score. Scores in all areas are also considered in advancing teams to the regional competition. Teams from the Penn State DuBois hub who earned a sport in regionals are DuBois, Mentor Christian School, and Redbank Valley. The regional competition will be held in spring of 2018, with the date and location to be announced.
BEST provides all necessary parts and equipment for teams to build a robot that they can use to run a course and perform specified tasks. The robot must be built within a six-week timeframe. On the days of the contest, all teams run the course, competing for the best times and course completion. Through participation in this project-based program, students learn to analyze and solve problems utilizing the engineering design process, which helps them develop technological literacy skills. The goal is to better prepare these students for further education and careers in STEM fields (science, technology, engineering and mathematics).
The learning opportunities with BEST don't stop at STEM fields, however. Teams also compete and receive awards for other areas of the project, which include marketing, exhibition, sportsmanship and team spirit.
"This teaches kids to value everyone's talents," said Stephen Feldbauer, instructor in the Penn State DuBois engineering program, and coordinator for BEST. "This gives kids with talents in many different areas the chance to contribute. It's not all about those who are good with math and technical skills. Students can contribute artistically. And it also shows them how to work as a team, lead a team, and to participate in all the other parts."
Penn State DuBois BEST 2018 was made possible by Diamond Level sponsor Miller Fabrication Solutions; Silver Level sponsors Atlas Pressed Metals and Comtec Manufacturing Inc.; and Bronze Level sponsor Eastern Sintered Alloys Inc.