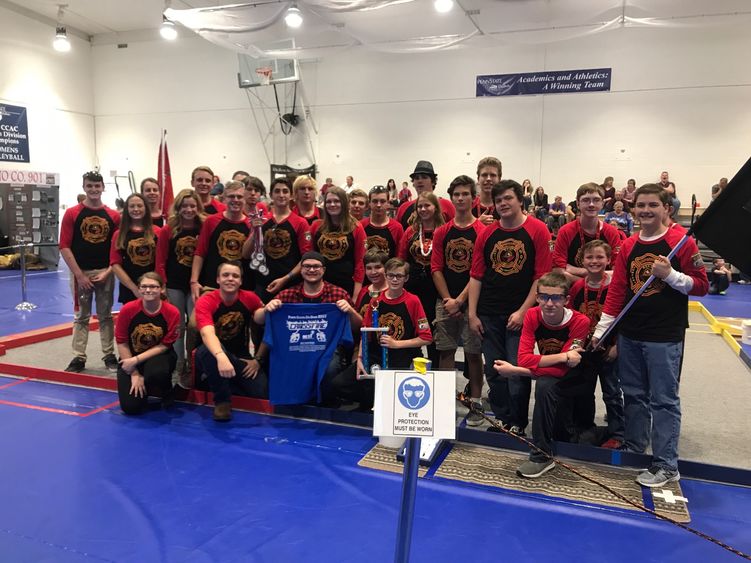 DUBOIS, Pa. — DuBois Area High School took first place in the BEST (Boosting Engineering, Science and Technology) Robotics Competition held Saturday, Oct. 21, in the gymnasium at Penn State DuBois.
Not only did the team come out on top of the overall BEST competition, it also captured first place in several of the sub-competitions, including the specific robotics course contest, the engineering notebook, the software award, and the marketing portion. DuBois also captured the Chancellor's Award during a bonus round on the robotics course, which nets the team $500 to be used toward travel expenses when it heads to North Dakota State University from Nov. 29 through Dec. 1 for the Northern Plains BEST Regional Championships.
Also receiving bids to travel to the Northern Plains Championships from the Penn State DuBois hub were the second- and third-place teams, Redbank Valley and St. Marys Area, for their performance in the robotics obstacle portion of the competition.
Taking the top spot in BEST means the team's performance in robotics, engineering design notebook, marketing plan, and other areas of the competition were all tallied and combined for a total score. Second- and third-place spots in the overall BEST competition went to Redbank Valley and Cranberry Area, respectively.
BEST is a national robotics competition for middle and high school students. The BEST organization provides all necessary parts and equipment for teams to build a robot that they can use to run a course and perform specified tasks. This year's theme was titled "Crossfire" and was based on firefighting tactics. The robots had to be built within a six-week timeframe. During the contest, all teams ran the course, competing for the best times and course completion.
Through participation in this project-based program, students learn to analyze and solve problems utilizing the engineering design process, which helps them to develop technological literacy skills. The goal is to better prepare these students for further education and careers in the STEM fields — science, technology, engineering and mathematics. This is the fourth year the competition has been hosted at Penn State DuBois.
Schools participating in BEST this year were DuBois Area, Clearfield Area, Clearfield County Career and Technology Center, Redbank Valley, St. Marys Area, Brockway Area, Cranberry Area, Oil City, and Philipsburg-Osceola.
"There was some stiff competition. St. Marys came out really strong," said Jennifer Keith, physics teacher and BEST coach for DuBois Area High School. "The kids work so hard and put so much time into this, after school and on Saturdays. It's really rewarding to see them enjoying what they do and to know they'll again represent our part of the country at the championships."
St. Marys coach Heather Beck said of her team getting a bid to the next level, "It's a little surreal. I think the kids are really excited but also nervous. But seeing them go through this process helps them see what they learn applied to real-life situations."
Teams also compete and receive awards for those additional parts of the contest to help provide real-world lessons in other areas outside of engineering, as well. They compete in marketing, exhibition, sportsmanship and spirit, software design, and are judged on their project notebook. In marketing, DuBois took first, Cranberry second, and Brockway third. In exhibition, DuBois took first, Redbank second, and Oil City third. In spirit and sportsmanship, Redbank came in first, Oil City second, and DuBois third. In software design, DuBois claimed first, Redbank second, and Cranberry third. And in the notebook, DuBois took first, Redbank second, and Oil City third.
Overall, the students are exposed to a variety of possible career fields that they can pursue following high school.
"We bring top students from our area school districts to campus and get them to interact with faculty," said Penn State DuBois Instructor in Engineering and BEST Hub Director Steve Feldbauer. "They see that we are real people and approachable, and that Penn State DuBois is not just a great place to learn, but also a place where you can have a lot of fun."
Feldbauer continued, "This year's competition was excellent. The teams really stepped up their game from previous years; the complexity of the robots was much greater, and the students were really having a lot of fun."
BEST at Penn State DuBois was made possible by sponsorships from Barnes and Noble, alumna Christine Beretsel, Dave and Francie Spigelmyer, Miller Welding and Machine, Atlas Press Metals, Eastern Sintered Alloys, Joe and Pat Kirk, and friends of Penn State DuBois.
More information about BEST at Penn State DuBois can be found at http://dubois.psu.edu/best.