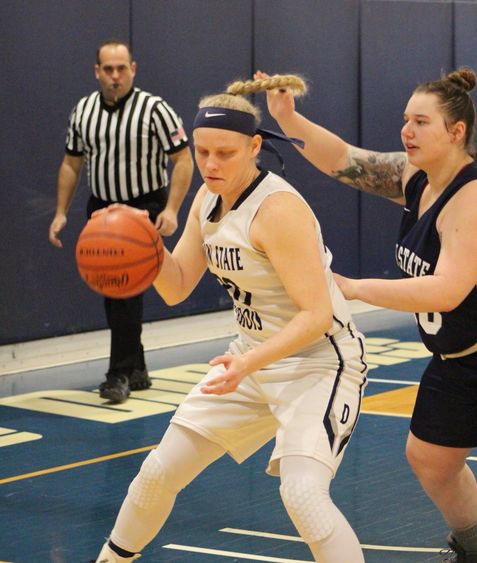 Melody Young became the first woman in campus history to score 1,0000 career points and join the ranks of the Penn State DuBois 1,0000 Point Club during a home game on February 10, against Penn State Scranton.
Needing only 2 points to reach this milestone, Young's team mates wanted to find her early to ensure the goal was reached. In fitting fashion, fellow Senior Kristen Williams found Young posting up, and threw a perfect entry pass. Young took one power dribble, turned, and scored not only the first bucket of the game, but a bucket that will stick in the Penn State DuBois history books.
Penn State DuBois had all the lift they needed after that, and went on to win the game, 88-58. Williams went on to have a great night on this, her senior night as well, as she scored 16 points and dished out 8 assists. Sophomore Cierra O'Shell led all scorers with 20.
Young not only became the leading scorer for the women's program, but earlier in the season she also became the leading rebounder in program history as she has tallied 842 rebounds. With 2 regular season games left to play, and not mentioning any post season play, Young still has time to get those numbers even higher.
Young also is one of the all-time leaders in kills on the volleyball team, as well as a key asset to the softball team.
The women's team will go on the road for 2 more conference games this week before seeding takes place for the PSUAC Championship Tournament.