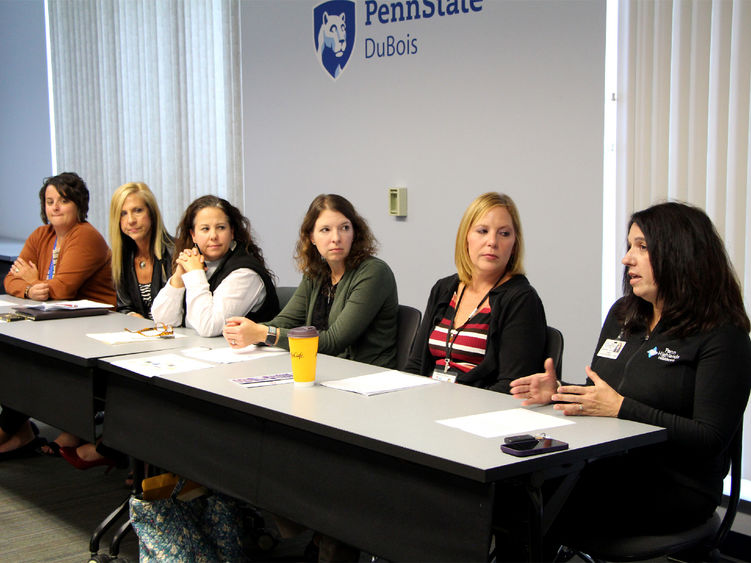 DuBOIS, Pa. — Every fall semester, the Human Development and Family Studies (HDFS) department at Penn State DuBois hosts an internship and employer panel comprised of local social service agencies that provide hands-on internship experiences for students enrolled in the HDFS program. This year's event, held on Sept. 28, saw six representatives from local community agencies sit on the panel and speak with students about their professional journeys, their passion for the field, and what opportunities await students after graduation.
Students in the HDFS program will typically complete an internship during their last semester, giving them practical work experience under the mentorship of an on-site supervisor and a faculty supervisor. This piece of the HDFS program not only boosts students' resumes before graduating with their degree but also helps them apply all their learning to a real-world setting. Students can tailor their internship to focus on populations and interventions of specific interest to them. For example, students hoping to work in substance use prevention can intern with the Clearfield-Jefferson Drug and Alcohol Commission. Students focusing on child development can complete an internship within early childhood education centers, daycares or school districts.
The internship and employer panel offers students the opportunity to connect with representatives and agencies in the community, ask them questions to gain valuable insight and make important professional connections. This year, panelists included:
Jane Adair, clinical operations supervisor, Penn Highlands Healthcare
Brenda Gorham, executive vice president of mission services, Goodwill Inc.
Malissa Martino, outreach and training coordinator, Clearfield Jefferson Drug and Alcohol Commission
Rebecca Misko, crossroads coordinator, Community Action Inc.
Erin Rowles, resource parent coordinator, Clearfield County CYS
Dr. Amanda Straub, licensed psychologist, Dickinson Center Inc.
For many HDFS students, the internship they complete has led to full time employment. Rowles, one of the panelists, is a graduate of Penn State DuBois who completed her internship with Clearfield County CYS in 2002. She explained that she loved the fast-paced environment, her colleagues and making a difference in the lives of those she served. Rowles has stayed with CYS ever since.
Other panelists described their individual pathways to their current positions, as well as advice to students preparing for careers as counselors, social workers, case managers and other helping professions.
Jessica Clontz, assistant teaching professor, human development and family studies has been the internship coordinator for the HDFS program since 2019. She hopes partnerships with community agencies will continue to grow and strengthen. Clontz, a graduate of the Penn State DuBois HDFS program, remembers the powerful role her internship at the SCI-Quehanna Boot Camp in Karthaus, played in her growth as a professional.
"I worked alongside drug and alcohol treatment specialists, facilitated group therapy sessions, observed individual counseling sessions, wrote case notes, completed intake assessments and attended treatment team meetings," Clontz said. "All of my learning in the HDFS program assisted in my ability to hit the ground running in my internship and inspired me to continue for my master's degree in counselor education. This was my first real experience providing treatment services to clients but my colleagues at the Boot Camp were incredible mentors and guided me each day. I'm grateful the HDFS program provided that opportunity as it sparked my love of walking with clients on their healing journeys."