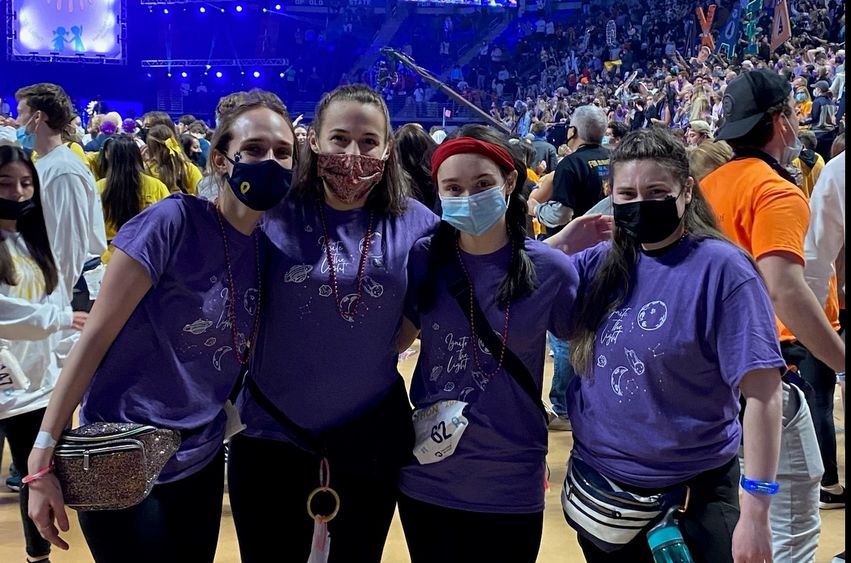 DuBOIS, Pa. — While recovering from the 46-hour dance marathon that wrapped up at 4 p.m. on Feb. 20, Penn State DuBois' THON dancers for 2022, Hannah Allen, Haley Rummel, Elise DuFour and Alena Keen, can rest knowing that they championed efforts resulting in $27,528 raised "For the Kids." Penn State DuBois ranked seventh among all Penn State locations for money raised toward this year's overall THON record total of $13,756,374.
THON, the Penn State Dance Marathon supporting the fight against pediatric cancer, returned to an in-person event this year. Allen, Rummel, DuFour and Keen were on their feet for the entire 46-hour dance marathon at the Bryce Jordan Center at University Park, representing Penn State DuBois as the official campus dancers.
The largest student-run philanthropy in the world, engaging more than 16,500 students across Pennsylvania, THON has raised more than $200 million for Four Diamonds since its inception in 1973.
The event's sole beneficiary, and a leader in the fight against pediatric cancer, Four Diamonds fills in the funding gaps that insurance leaves for the patients it serves, enabling families to focus on caring for their child. Because of large donors like THON, Penn State Health Children's Hospital recruits world-class talent to continue innovative research, and to maintain and expand the state-of-the-art Children's Hospital.
"It feels like a dream; it's such a surreal experience to see over 650 dancers standing and celebrating for the same cause," Keen said of her experience at THON.
Rummel shared, "It feels motivating because as soon as you get on the floor, you realize why you're there, and people dream about being a dancer, so this is really a once in a lifetime opportunity for us. All of the stories just inspire everybody so much."
Allen added, "It feels like a movie; the amount of people makes it feel that way, and the energy and excitement are high. There's also a sense of camaraderie since we are all here working toward the same goals. My whole body is sore but I'm so excited to see the final total."
"It feels unifying; everyone you see is just as determined and passionate about this cause as we are," DuFour said.
Click here to read more about this year's Penn State DuBois THON dancers and why they support the cause.