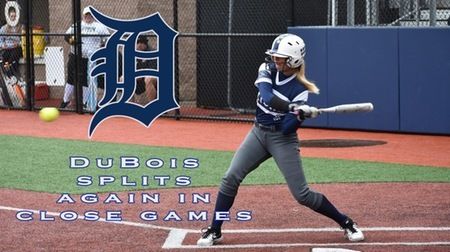 After splitting with east divisional opponent Brandywine on the road the night before, it was DuBois' turn to host Brandywine on Saturday.
In game 1 fans witnessed a pitching duel between Lizzy Scott and Rebecca Halford. Both pitchers went the complete game. DuBois had five hits, and only struck out three times against Halford while Scott only allowed four hits, and struck out nine.
DuBois was led on the offensive side by center fielder Cierra O'Shell who went two for three with a double and a triple. DuBois couldn't find the plate though as they would go scoreless for the game, and see Brandywine go on to take the first game, 2-0.
Game 2 was a different type of game. Brooke Harvey had a day from the plate, and was the starting pitcher as well. Harvey would go five-and-a-third innings from the mound giving up only six hits. Scott would come in for the final one-and-two-thirds innings down by one run.
Harvey would then come up to the plate in the bottom of the seventh, and bring in the winning runs on a walk-off single to take game 2 in the double header, 7-6. Harvey went four for five from the plate with two runs and two RBI's.
A complete schedule for this season's Penn State DuBois softball team can be viewed here.