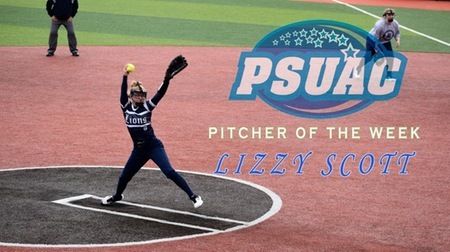 The Penn State DuBois Softball team claimed victory in three of four games over the weekend. They traveled to Penn State New Kensington Saturday for their first road contest of the 2021 season. DuBois came into the double header with the current PSUAC softball athletes of the week in pitcher Lizzy Scott, and hitter Skylar Ceprish.
The first game of the double header was all DuBois as Scott picked up right where she left off against Fayette last week. Scott allowed only five hits in seven innings, and out of the 32 batters she faced 14 went down on strike outs. The only two runs given up by DuBois came in the bottom of the seventh inning. DuBois took the first game with a final score, 4-2.
From the plate, DuBois had a big game from the sophomore from Clearfield, Aspen Bishop. Bishop went three for four, and had two RBI's, and added both a double and a triple on the game.
Penn State New Kensington came back strong in game two with a five-run second inning against DuBois pitcher, Brooke Harvey. Harvey allowed nine hits through five-and-a-third innings, but did record five strike outs. Bishop helped offensively again with another double, while Harvey and Brittney Williams each added two RBI's for DuBois.
In the second double header of the weekend, Penn State DuBois traveled to Penn State Fayette Sunday to finish up their road trip. Starting pitcher Lizzy Scott, who has been on a roll from the mound so far this season picked up right where she left off the day before in her win against New Kensington. DuBois would have 15 hits, as they surged in the sixth inning with seven runs. They would end game one with a 12-2 victory.
Scott added another eight strikeouts to her total, and allowed only two runs to score for the entire game. The bats for Coach Kern's DuBois team kept on swinging hard as well. Aspen Bishop came up with another 3 RBI game, while Skylar Ceprish and Brooke Harvey each ended the game with three hits. Ceprish contributed with a triple while Harvey helped with two doubles.
Game 2 started a little slower for both teams as it would go scoreless through the fourth inning before DuBois would change the board with an RBI double from Ceprish to drive in Bishop.
Ceprish would add another double, triple, and two RBI's to help her team to an 8-0 win to take the series sweep of Fayette for the second time this season.
Harvey would get the win as she would pitch a complete game shutout with a season high 11 strikeouts. Harvey would only allow four hits, and not give any free passes on the day.
Penn State DuBois will be back in action on Tuesday as they travel to Penn State Hazleton.
A complete schedule for this season's Penn State DuBois softball team can be viewed here.