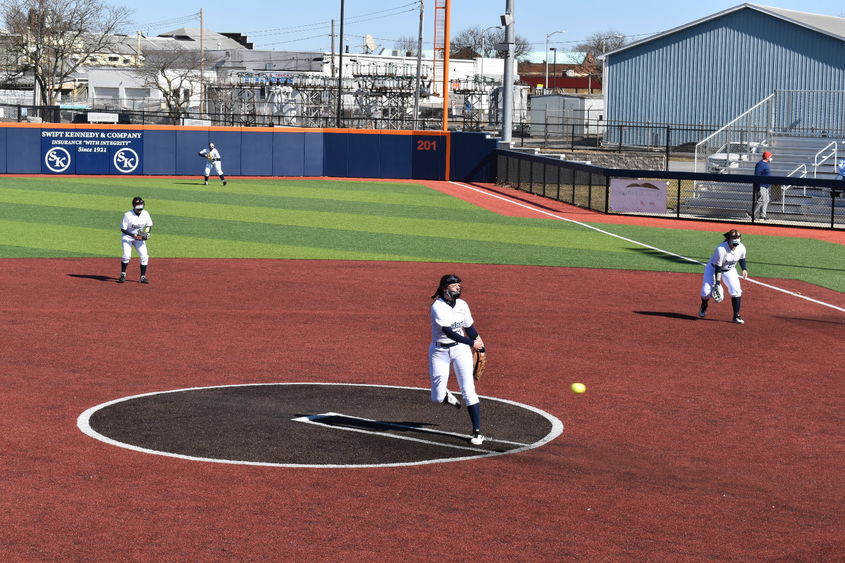 DUBOIS, Pa. — The Penn State DuBois softball team hosted Penn State Fayette on Saturday to start the 2021 PSUAC season. DuBois came out strong in this double header, besting Fayette in both games. The final for game one came in at 14-1, DuBois, and the second game ended with a DuBois victory at 16-1. DuBois started off behind the arm of veteran pitcher Lizzy Scott, who didn't disappoint the home fans. Scott pitched a complete game of 5 innings giving up only 1 run, and an outstanding outing of 10 strike outs.
Her team would score 14 runs to help her out that included a home run from Skyler Ceprish, and 2 triples from Malliah Schreck and Cayleigh Huffman.
Ceprish added 3 RBI's, while Scott and catcher Larissa James-LaBranche would each add 2 RBI's for the game.
Brooke Harvey would start game two, and her team was behind her in the exact same fashion as the first. With a triple from Ceprish, and 2 doubles from right fielder Aspen Bishop, DuBois would put Fayette away in only three innings with a score of 16-1.
Harvey gave up only 4 hits in 15 batters faced. Bishop, Cierra O'Shell, and Karly Rumsky would all contribute 3 RBI's each to help DuBois sweep the series.
A complete schedule for this season's Penn State DuBois softball team can be viewed here.
Please note the March 16, games have been postponed due to weather and rescheduled for 4 and 6 p.m., Monday April 5, at Heindl Field versus Penn State Beaver.
All home games can be viewed via livestream at https://psuduboisathletics.com/multimedia Links will remain active following the games for those who wish to watch later.