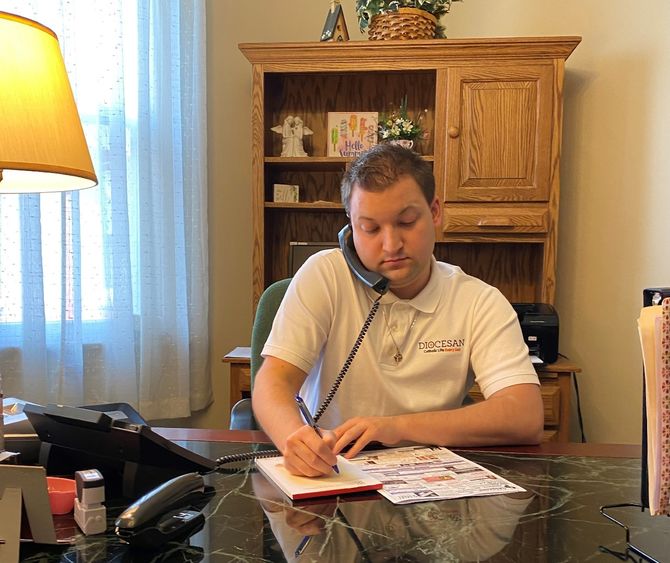 Adam B.L. Snyder, of Brockway, Pennsylvania, has always had two passions: his faith in the Catholic Church, and work in mass-media communications. Today, the Penn State DuBois graduate has combined his enthusiasm for both to establish a successful career in helping to move church communication into the 21st century.
Snyder earned a bachelor's degree in letters arts and sciences, as well as a minor in English from Penn State DuBois in 2014. He is now working as a communications consultant with Diocesan, a national publication firm serving Catholic churches nationwide.
Snyder has been recognized for his work in the October issue of the Erie Catholic Diocese publication, Faith Magazine as an individual who is 30 years of age or under who has found success in work with the Catholic Church. The article can be viewed on page 15 at https://catholicmagazines.org/magazine-archive/faith-erie/er1020
Diocesan keeps church goers connected by producing software that provides access to announcements and bulletins online through social media, as well as through mass text messaging platforms. These efforts have proven particularly appealing during the COVID pandemic as many individuals have chosen to avoid face-to-face services.
"We offer information to the parishioners the way they want to receive it," Snyder explained. "People are able to view bulletins and see ads that direct them to the sites of our advertisers. It's such a great thing that we could move things online because that's how parishioners get all of their information at this time."
Snyder forms relationships with advertisers who help to fund production of bulletins and other communications that might otherwise burden individual churches. He explained, "Because our company prints bulletins for parishes, the churches can enhance their ministries with the money they are saving from in-house printing."
In his fourth year with Diocesan, Snyder assists more than 40 churches on the East Coast, serving congregations from New Hampshire to North Carolina. In addition to bulletins, he promotes other services to the churches and advertisers alike, including the production of banners and additional promotional materials for his clients. He is based in the company's Harrisburg office. Diocesan also has offices in Ohio, Michigan, Florida, and Texas.
When asked what advice he could give recent or future Penn State DuBois graduates, Snyder said, "Look at every day as an opportunity and look at failure as the best teacher. There have been many times I have failed, but I got right back up. Sales is not easy; marketing and communications is not easy. You have to have thick skin and push on."
"I feel blessed and humbled everyday by the opportunities I've been given," Snyder continued. "I give credit to Penn State DuBois and to DuBois Central Catholic High School for all of the experiences I had at these institutions and how they prepared me for this work."
Snyder said of his degree in letters arts and sciences (LAS), "It's a very wide-reaching degree that you can do so much with, and you can choose how you want to tailor it to your career goals."
An LAS degree does, in fact, offer the flexibility for students to choose their own direction and path. Working with LAS faculty advisers, students develop a proposal that introduces a degree theme and a plan that details how they'll achieve their goals. Faculty then help to implement the plan successfully.
For more information on programs offered at Penn State DuBois, visit https://dubois.psu.edu/academics