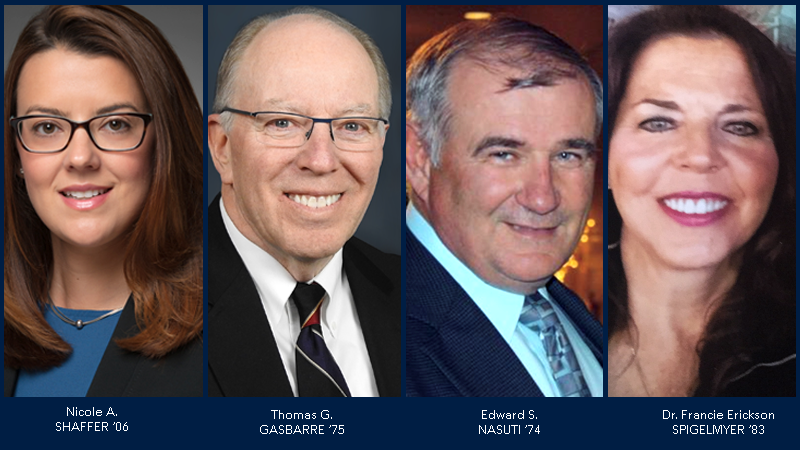 Each year the Penn State DuBois Alumni Society recognizes individuals for their professional success, as well as their support for the campus. Four awardees have been selected to receive this year's Penn State DuBois Alumni Society awards. Nicole A. Shaffer, 2006, will receive the Dave Shaffer Outstanding Young Alumni Award; Francie Erickson Spigelmyer, 1983, will receive the Outstanding Alumni Award; Thomas G. Gasbarre, 1975, receives the Distinguished Ambassador Award; and Edward Nasuti, 1974, has been named the recipient of the Lifetime Achievement Award.
Shaffer, uniquely, receives the award named for her father. She is the proposal development manager for BerryDunn, a Top 100 accounting firm and the largest accounting and management consulting firm in Northern New England. She supports the Government Consulting Group, drawing on her experience in sales, marketing communication, training, and client services to develop effective business and marketing strategies and proposals.
Shaffer's support of the Penn State DuBois Alumni Society started before her second birthday. She regularly attended events with her dad, Dave Shaffer, as he served as the director of University Relations for Penn State DuBois at the time. When it was time for Nicole to go to college, she attended Penn State DuBois before transferring to University Park to finish her two bachelor degrees in advertising and public relations, and history.
Spigelmyer serves as the chief academic officer at The Pennsylvania Cyber Charter School in Midland, Pennsylvania. She graduated from Penn State in 1983 with a bachelor's degree in education. She additionally earned a master's degree from the University at Buffalo, as well as a doctorate in instructional management and leadership from Robert Morris University.
Spigelmyer and her husband, Dave, have supported the campus for years. Recently, they established a scholarship in memory of her sister, Janice Erickson. In the past, they have supported the BEST Robotics competition and the ASPIRE Financial Literacy program.
Gasbarre, 1975 accounting, is the board chairman and chief financial officer of Gasbarre Products, Inc., headquartered in DuBois. As president and CEO from 1989 to 2018, Gasbarre led the company in eight strategic product and market acquisitions, achieving 10% compounded annual growth over a 30-year span.
Penn State, including the DuBois campus has played an ongoing role in Gasbarre's career and life. He has served on the Board of Directors of the DuBois Educational Foundation and oversaw the establishment of the Melvin Henry Memorial Scholarship Fund for nontraditional engineering students at Penn State DuBois. Gasbarre Products employees participate on various campus advisory boards and they have donated equipment to the powder metallurgy materials engineering lab.
Nasuti, 1974 civil engineering, is retired after 42 years as a consulting engineer. He started his career with Lee-Simpson Associates Inc. in 1972, serving as president from 1990 until 2012 when GAI Consultants acquired Lee-Simpson. He remained at GAI for two more years as senior vice president before retiring.
Nasuti has served as an instructor of engineering, a member of the DuBois Alumni Society Board of Directors, president of the DuBois Educational Foundation, a committee member for two Capital Campaigns, and was a commencement speaker. Ed and his wife Della have endowed two scholarships for students at Penn State DuBois.
While recipients are typically recognized at the Penn State DuBois Benefit Celebration in October, that event has been canceled this year due to the COVID-19 pandemic. A virtual recognition ceremony for these award recipients will be announced at a later time. For coming announcements, including messages from award winners, watch Penn State DuBois news at https://dubois.psu.edu/ and the Penn State DuBois Alumni Society events page at https://dubois.psu.edu/upcoming-alumni-events All upcoming events will also be shared on campus social media platforms.