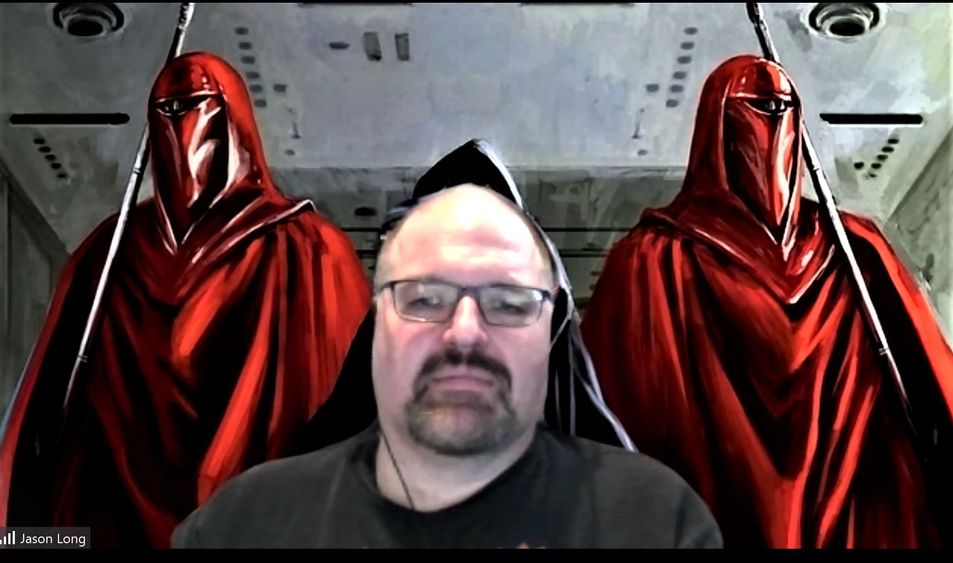 DUBOIS, Pa. — During the rapid transition to remote learning and working that many individuals are facing during the COVID-19 outbreak, it may be said that many have been preparing for remote learning and working for years. Students in the Penn State DuBois Information Sciences and Technology (IST) program have been well-educated in making virtual connections work between colleagues and fellow students, which has made their current learning situation one they could more easily adapt to.
IST Program Leader Jason Long said, "I'm doing all lectures and laboratory instruction in Zoom right now. It may not be ideal, but I want to make sure my IST students get the same experience as if they were in the classroom. Students can log in on their own devices and watch my entire lecture that I'm presenting from my home. Instead of being in the lab physically with me, they're watching online, and all the same information is still being presented."
Even for hands-on laboratory exercises, Long explained that the current remote situation has quickly become a real-world learning opportunity.
"When we heard that there was a possibility of transferring our classes online, my technician, Brian Tokarcik, and myself, created a remote connection that allows my IST students to remote control their physical lab computers they have been using before the classrooms were put online," he said. "My students now see that performing work virtually has become more and more of a theme in information technology. You see it with help desks and customer service all the time. Students can log into my labs from their own computers and work on problems virtually the same way they will surely tackle issues in their careers."
Second-year IST student Matt Varner, of Newbern, North Carolina, said the work IST faculty and staff have put into virtual learning has made for a seamless change. He explained, "There was no transition. As IST students we were taught in our second semester and greatly encouraged to use remote services to get work done. This is a real-world scenario for IST, and thanks to Jason, it was as easy as turning on a light switch."
Long makes himself available through online at almost any time, allowing students to connect to him and lab assignments whenever they are able.
Varner said, "We have our normal hours of class using Zoom, which is very helpful, but Jason also goes above and beyond and has office hours on his Zoom so we are able to pop in and out and ask for advice and help just like if we were on campus."
Perhaps, most importantly, said student Joshua Gagne, of Naugatuck, Connecticut, Long works to instill a "can-do" attitude in his students.
"Jason always emphasizes the importance of being prepared, flexible and adaptable as IT professionals," said Gagne. "Within a day or two of the closure we were all able to connect remotely to our lab environments and the change was as seamless as can be. This demonstrated to us that the worst-case scenarios that we prepare for as IT professionals do happen, and we must be ready for that. Learning from this experience and applying this flexibility and preparedness to our future practices and work as IT professionals helps Penn State Dubois IST graduates to have a clear advantage in the workplace."
Varner added, "The entire COVID-19 ordeal has basically put we, the students, directly into a real-world scenario where we need to work and deal with clients in an offsite location without being able to meet face to face. You find out very quickly if this is, in fact, the career for you under these circumstances."
Alumni of the IST program now actively working in digital support fields have affirmed that Long's philosophy on education has helped them to flourish in their careers. Josh Total, an IST program graduate who also completed an internship with Long in 2007-08, is currently an operations communication specialist with the Greater Southern Tier Board of Cooperative Educational Services, or GST BOCES, at the Pauline Bush Campus in Elmira, New York. He provides services for 21 school districts throughout Southern New York.
Total said, "In terms of specifics to the quarantine, my education absolutely helped me adjust to the situation and still provide services to the school districts we support. Specifically, the implementation of our virtual environment to allow staff members the ability to check their home shares, email, and access applications, from virtual machines inside our network. This environment is incredibly useful to staff who need to quickly check something without having the need to lug their work devices home with them. I was able to leverage a little bit of everything that I learned in IST into this project. My time in the IST program at Penn State DuBois helped me gain enterprise level experience before I even stepped foot in an enterprise environment."
For more on measures taken at Penn State DuBois during the COVID-19 outbreak, visit https://dubois.psu.edu/covid19faq.