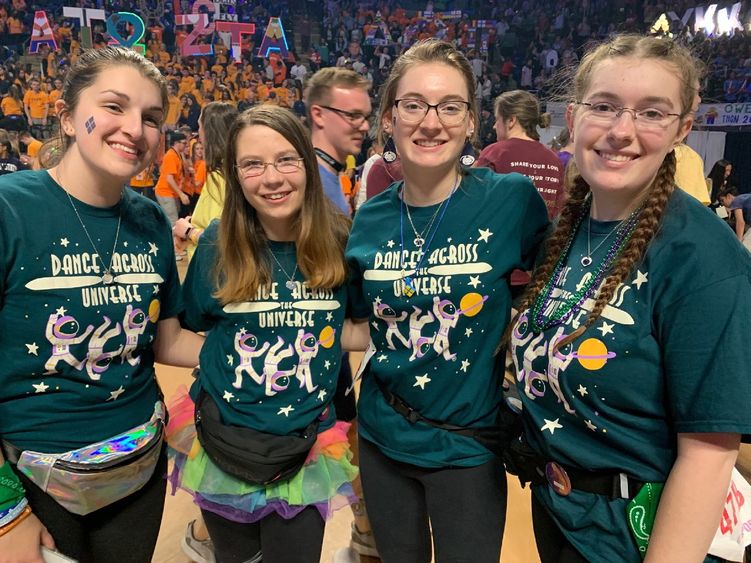 THON weekend came to a close on Sunday with $11,696,942 raised across all Penn State locations to help fund the fight against childhood cancer. While four official campus dancers from Penn State DuBois continue to nurse their tired feet, they are proud to say they all made it through the entire 46-hour dance marathon, and helped to usher in a record-breaking year for THON fundraising at DuBois. Penn State DuBois contributed $34,882 to the overall THON total this year, as they continued to accept online donations through Sunday.
"We've never raised that much money at DuBois, and it makes me proud of the people I'm surrounded by," said Penn State DuBois for THON Chair KJ Long. "I'm so pleased to see that my community and my organization is willing to donate time and money to bring happiness to these families."
Long refers to THON's mission of supporting Four Diamonds, an organization that fills in the funding gaps that insurance leaves for the patients it serves, enabling families to focus on caring for their child. Because of large donors like THON, Penn State Hershey Children's Hospital recruits world-class talent to continue innovative research, and to maintain and expand the state-of-the-art Children's Hospital, leading the fight against pediatric cancer.
As the dancers, Taylor Butler, of Curwensville; Sarah Voris, of Punxsutawney; Lydia Holt, of Brockway; and Heather Witherow, of Reynoldsville; arrived back at Penn State DuBois, they reflected on their experience during THON Weekend. With so many families supported by THON always in attendance, the DuBois dancers said meeting with the individuals impacted by the event was incredibly rewarding. They also got to see the families enjoying the music, entertainment and euphoric atmosphere of THON.
"It was eye opening. Unless you're there for the whole 46 hours, you really don't know what it's about," Butler said, "It filled my heart playing with and seeing those kids. That's our purpose. That's what we do it for. There are a lot of THON families there and just seeing how happy they are is heartwarming. Sometimes it was hard to keep going, but I would tell myself these kids have pain that lasts longer than 46 hours, so we should be able to do this for them."
Witherow added, "I feel very proud that we could raise so much for the kids. It is honestly magical seeing all of these kids smile, and seeing them not have to worry about cancer for a few short hours is the most amazing thing."
Inspiration from the kids was a big motivator that helped the dancers get through 46 straight hours on their feet. However, they said they also could not have done it alone. Voris said, "It was amazing seeing over 700 dancers there (raise money) to find a cure for pediatric cancer. I thought I did pretty well, but I wouldn't have done as well without motivation from my family, the dance relations committee, and without Lydia, Taylor and Heather with me. I really enjoyed doing it together with them."
Holt added, "It's crazy. People from all across the country send you letters and root for you. It's nice to know I did what I could."
The largest student-run philanthropy in the world, engaging more than 15,000 students across Pennsylvania, THON has raised more than $180 million for Four Diamonds since its inception in 1977.