Top finishers earn a combined $50,000 to develop their business ideas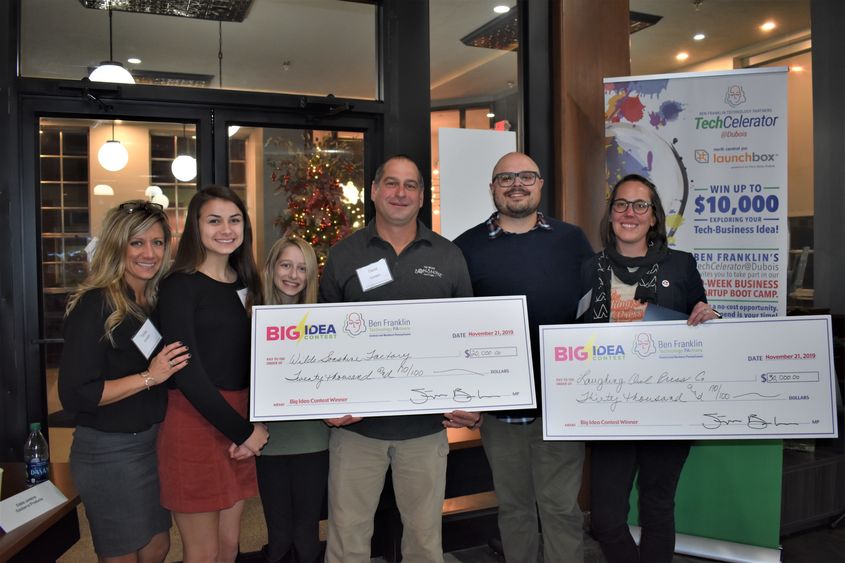 DuBOIS, Pa. — Joe Lanich with Laughing Owl Press, of Kane, who is developing software that brings digital convenience to high-end letterpress printed products, took first place in the BIG Idea Competition at the North Central PA LaunchBox, following presentations by the eight finalists to a panel of judges. He will receive $30,000 to develop his business.
David Conklin with Wilds Sonshine Factory, also in Kane, took second place in the competition. Conklin is distilling a new spirit derived from a sunflower plant grown solely in the Pennsylvania Wilds region. He will receive $20,000 in funding to develop his business idea.
Pitches got underway at 2 p.m. on Thursday, Nov. 21, at the North Central PA LaunchBox, located in the Old Deposit Bank Building at 2 East Long Ave. in DuBois, in front of a crowd nearly 100 people. Ben Franklin Technology Partners and the North Central PA LaunchBox Powered by Penn State DuBois teamed up to organize this contest for aspiring entrepreneurs. Other finalists who presented at the event were:
Jeff Billett with Billett Electric in Punxsutawney, who is developing an equipotential grounding system for mobile operation to protect personnel and equipment from static and stray electricity.
Keith Billotte with Doing Time LLC in Clearfield, who has developed an innovation in the process of distilling bourbon.
Peter Schramm with Lattus Inc. in Brookville, who developed a platform that facilitates personal conversations about specific professional and personal topics to share insights, perspectives and experiences.
Daniel Meier with Lightdrop Harvest LLC in St. Marys, which utilizes neural networks (artificial intelligence) in vision systems to inspect parts produced by the powdered metal industry.
Royce Novosel-Johnson with NoJo Forest Creations in Kane, who is establishing alternative and creative uses for wood and wood-related products within the PA Wilds and Allegheny National Forest.
Harb Nayar with TAT Technologies in St. Marys, who is developing a process that reduces thermal process cost and energy consumed.
Ben Franklin Technology Partners sought out tech entrepreneurs, developers or small manufacturers who are creating innovative new products, processes or software applications.
In addition to the money, the winners receive:
Access to seminars offered by Ben Franklin's eMarketing Learning Center and the Clarion Small Business Development Center.
A free consultation on applying for federal research and development grant money from the Innovation Partnership.
Executive business and technology growth services assistance offered by the Northwest Industrial Resource Center.
"The BIG contest has been a huge benefit to the region as it has helped entrepreneurs take their ideas to the next level," said North Central PA LaunchBox Director Brad Lashinsky. "I'm truly looking forward to seeing these finalists operating their businesses here in the north central region. By having this competition, it has allowed the region at large to start thinking in terms of entrepreneurship. It sparks ideas, and I think we'll see more entrepreneurs coming out of the region."
"The Big Idea Contests capture the attention of fledgling entrepreneurs at the moment when they need it and can make best use of a wide array of resources to help them move their big ideas forward," said Jill Edwards, executive director of the Ben Franklin Venture Investment Forum and Innovation Transfer Network. "The cash prizes are just the most visible benefit. Making themselves visible by applying to the contest gets entrepreneurs connected to consultants from the LaunchBox, the Small Business Development Centers, local economic development organizations, and Ben Franklin. They don't have to make this journey alone."
Edwards went on to explain how the success of new and growing businesses has an impact far outside of that individual company.
"Small business has long been the backbone of our nation's economy," she said. "In any region, companies that get formed to solve local needs, using local resources, have a better chance of survival and growth and add to the long-term economic condition of their communities."
The largest early-stage investor in the region, Ben Franklin Technology Partners/CNP, an initiative of the Pennsylvania Department of Community and Economic Development and funded by the Ben Franklin Technology Development Authority, provides investment capital, operational assistance, and business support services to emerging tech-based companies and small, existing manufacturers to create and retain jobs in Pennsylvania. Visit Ben Franklin's website at www.cnp.benfranklin.org or phone 814-863-4558 for more information.
The BIG Idea Contest is sponsored by the North Central PA LaunchBox, Fairman Family Foundation, CBT Bank a Division of Riverview Bank, the Clarion University Small Business Development Center, the Northwest Industrial Resource Center, and the Appalachian Regional Commission.
The next big opportunity for entrepreneurs is coming soon. Partnering with Penn State DuBois and the North Central PA LaunchBox, Ben Franklin's TechCelerator @DuBois is inviting local entrepreneurs, graduate students, professors and university researchers to participate in the next 10-Week Business Startup Boot Camp. The weekly sessions will run on Wednesdays from 10 a.m. to 1 p.m. beginning Jan. 15, 2020, until March 19, 2020, followed by coaching sessions at the North Central PA LaunchBox, located in the Old Deposit Bank Building (2 East Long Ave., Suite 300, DuBois, PA 15801).
Business mentoring from Ben Franklin's Transformation Business Services Network and Clarion University's Small Business Development Center also will be available free of charge.
A graduation "pitch" event will enable the winning team to receive up to $10,000 in seed funding to help get their business from startup to up and running.
This is a no-cost opportunity. During the 10 weeks, participating individuals will receive up to $1,000 in reimbursement toward customer discovery and prototyping. In addition, Invent Penn State's I-Corps Site status enables eligible, University-related startup teams to receive up to $3,000 for customer discovery.
Participants will come away from this experience with a viable business model, a list of networking contacts, and the confidence that comes from knowing if it's the right time to start a tech business.
Space is limited. Contact John Siggins at 814-865-2879 or [email protected], or visit https://cnp.benfranklin.org/techcelerator-dubois/ for more information or to apply.