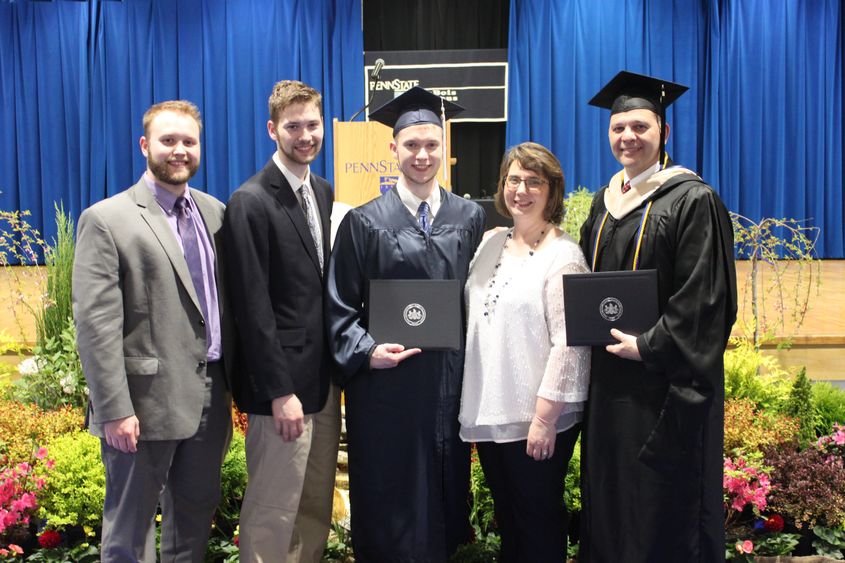 DUBOIS, Pa. — A local father and son had a unique opportunity this graduation season. Dad, Ray Serafini, and son, Andrew Serafini, having both earned their degrees, walked together during the same commencement ceremony last month at Penn State DuBois.
Natives of Brockway, Ray graduated first in his class with a master of business administration degree, and Andrew earned his bachelor's degree in engineering with a specialization in applied materials available at Penn State DuBois.
Ray completed his MBA through Penn State Behrend but requested to transfer his commencement to DuBois so he could share it with his son, who completed his entire four years in engineering at DuBois.
"This was my plan the whole time," Ray said. "I wanted to map it out so that it would happen this way. It was great being up there with him and being able to do it together."
"It was a great opportunity going through it with him," Andrew added. "Being able to walk across the stage on the same day with your dad is something that most people won't be able to experience."
Andrew said that mapping out and completing the plan was no small feat, praising his father for the hard work it required.
"He's really busy with working full time, he takes care of our whole family, and he still pulled off a 4.0," said Andrew.
Ray is a customer executive with Messer, an industrial gas company, and said he had explored options for an MBA program for many years in order to bolster his career skills. Andrew is a process engineer with Atlas Pressed Metals in DuBois, having lined up a job before graduation.
The double graduation is not where the Penn State ties end for this family, however.
"I actually had three sons at Penn State DuBois, all at the same time," Ray said. "Raymond III earned a bachelor's in business, Noah got both two- and four-year information science and technology degrees, and Andrew his degree in engineering."
Additionally, Ray attended Penn State DuBois as an undergraduate while working toward a bachelor's degree in electrical engineering, which he completed in 1988. He also has served on the Industrial and Professional Advisory Council for the campus engineering programs for 25 years and is a past chair of the council. He and his wife, Lori, and all three sons continue to live in Brockway.