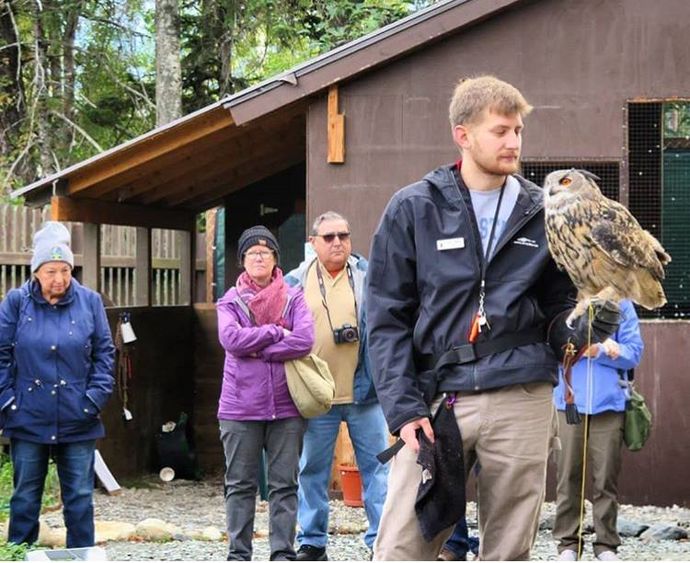 DUBOIS, Pa. — An alumnus of the Penn State DuBois Wildlife Technology program, Josh Sanko has always had a passion for wildlife and the outdoors, with a particular interest in birds. However, at the beginning of this year, it was Sanko himself who really spread his wings. In January he started a full-time position as a program coordinator with the American Bald Eagle Foundation (ABEF) in Haines, Alaska.
The mission of the ABEF is the conservation of the bald eagle and its habitat through education and stewardship. Additionally, the foundation works with a number of other bird species that share that habitat. As a program coordinator, Sanko works under the Curator of Collections and the Raptor Program manager, training and caring for birds of prey each day that are housed at the foundation's facilities. Those birds are frequently featured in educational programs aimed at introducing the public to the species, as well as the conservation efforts focused on them.
"This work is so important because the animals we work with are our coworkers and they help us in the education of the public to show why these animals, and all wildlife, should be protected," Sanko explained. "Even though our mission is about the bald eagle, one animal impacts the entire ecosystem around it, so conserving one species means conserving the ecosystem as a whole."
Additionally, Sanko maintains the foundation's social media platforms, oversees interns and volunteers, and leads the Youth Raptor Program for local youth interested in learning about birds of prey. In this way, he hopes to inspire others to aid in conservation efforts with the same intensity that began growing in him when he was just a child.
"I have always had a passion for wildlife and the conservation of their habitats. My goal has always been to protect these species that can't speak for themselves," Sanko said. "By working alongside raptor coworkers, I can teach people about their species and hopefully inspire a connection between the public and the animals I work with. I grew up outside and in the outdoors with my father, who taught me how to hunt, fish, and enjoy the woods. Once I realized that I could make a career out of working outside and with animals, I began to set my sights in that direction and never looked back."
Sanko grew up in Reynoldsville, Pennsylvania, graduating from DuBois Area High School in 2014. Once he realized he could turn his passion into a career, he enrolled in the Wildlife Technology program at Penn State DuBois. This associate degree program offered exclusively at Penn State DuBois trains graduates to work in fields of wildlife conservation, environmental conservation and more.
"Penn State DuBois helped me gain the knowledge I needed in order to do this job. The classes there taught me about the species I work with currently as well as how to interact with the public and educate them about wildlife," Sanko said. "Penn State Dubois' Wildlife Technology program showed me how to have conversations about wildlife conservation, especially with those that had differing ideas on how to manage certain species. I am and will always be grateful for my Penn State DuBois Education paving the way to where I am today."
After completing his associate degree in 2016, however, Sanko wasn't done learning. He went on to earn his bachelor's degree in wildlife and fishery science at University Park, graduating in December of 2018.
"Once I realized that I could make a career out of working outside and with animals, I began to set my sights in that direction and never looked back."

—Josh Sanko, Penn State DuBois alumnus in wildlife technology
During his time at University Park, Sanko also worked at Penn State's Shaver's Creek Environmental Center, where he was introduced to training and educating with birds, which professionals in this field refer to as "avian ambassadors". It was there that Sanko first encountered the ABEF through an internship opportunity that he was able to complete immediately after graduation.
"I started as an intern at the foundation in May of last year," he said. "I worked as an intern for four months of my year-long internship when a position became available as full-time staff. I applied for the position, interviewed, and got the job. I graduated on Sunday and left for Alaska on Friday, so you can imagine how big of a change that was. I officially started in mid-January of this year."
While there has been a great deal of adjustments to make in his life, Sanko said he's enjoying the adventure.
"Transitioning to a new area is always difficult, especially when that new area is 3,500 miles away. The town of Haines is small, without a movie theater or even chain restaurants, so the transition at times was especially hard," he said. "I found the best way to get over that fear and homesickness was to get out and explore. Haines may be small, but it is full of some of the most interesting people I've ever met. I miss home all the time, but I know that life happens outside of your comfort zone."
Founded in 1982, the ABEF today features a natural history museum in addition to educational programs on raptor species, youth programming and more. For more information visit https://baldeagles.org/