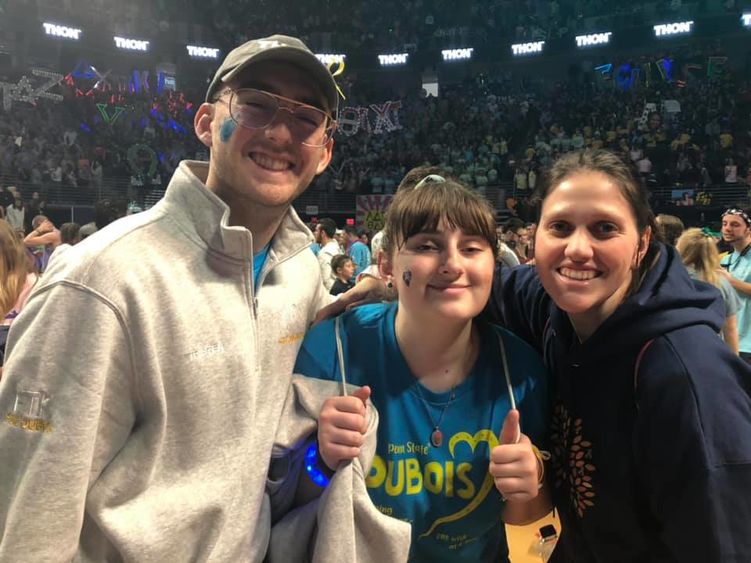 DUBOIS, Pa. — The Penn State DuBois THON committee once again broke its own record, capping off the 2018-19 fundraising season with a hair auction during the THON Dancer Sendoff Dinner on Thursday evening, Feb. 14. All told, DuBois raised $30,359 for THON 2019. The three THON dancers representing DuBois at the Bryce Jordan Center for the weekend were Tristen Bressler, Jamie Turner and KJ Long, who are now recovering from spending 46 consecutive hours on their feet.
"THON for me was the most humbling, rewarding and memorable experience, that will last with me a lifetime," Turner said. "It was both mentally and physically exhausting but so worth it to watch all the Four Diamond kids playing, laughing and enjoying life on the floor. The experience was made even greater by the support team made up of students from PSU, past THON dancers, our advisers Rebecca and Marcie, friends and our families, we couldn't have done it without them by our sides for the whole weekend. I am so glad I got to experience THON before I graduated, I think everyone so should go at least once in their lives, it truly is a life-changing experience. I am so glad I got to experience it with KJ and Tristen, we all kept each other sane and motivated to finish the 46 hours together, I wouldn't have wanted anyone else by my side. Anytime I got tired or down I just kept thinking about why we were really there....FTK!"
The hair auction is the largest single fundraising event for the DuBois THON Committee each year. Thursday's event netted $9,223, including proceeds from a silent auction. The hair auction features volunteers who have agreed to get their hair cut if audience members place enough bids to reach a reserve. Volunteering to get their hair cut for the cause this year were all three THON Dancers, student Heather Witherow, and 10-year-old Brianna Brubaker, daughter of Marcie Brubaker, campus assistant student engagement coordinator. Penn State Altoona student Madyson Hetzler also joined those from DuBois to have her hair cut. Hetzler is following the example of her sister, Jacqueline, who is a Penn State DuBois alumna who participated in the hair auction when she was a student. The top fundraiser was 4-year-old Jeanetta Blake Fegert, daughter of student Stephanie Fegert, who raised $1,600 with her hair cut.
Each year, THON, Penn State's Dance Marathon, raises millions of dollars for the Four Diamonds Fund. The event's sole beneficiary, and a leader in the fight against pediatric cancer, the Four Diamonds Fund fills in the funding gaps that insurance leaves for the patients it serves, enabling families to focus on caring for their child. Because of large donors like THON, Penn State Hershey Hospital recruits world-class talent to continue innovative research, and to maintain and expand the state-of-the-art Children's Hospital.