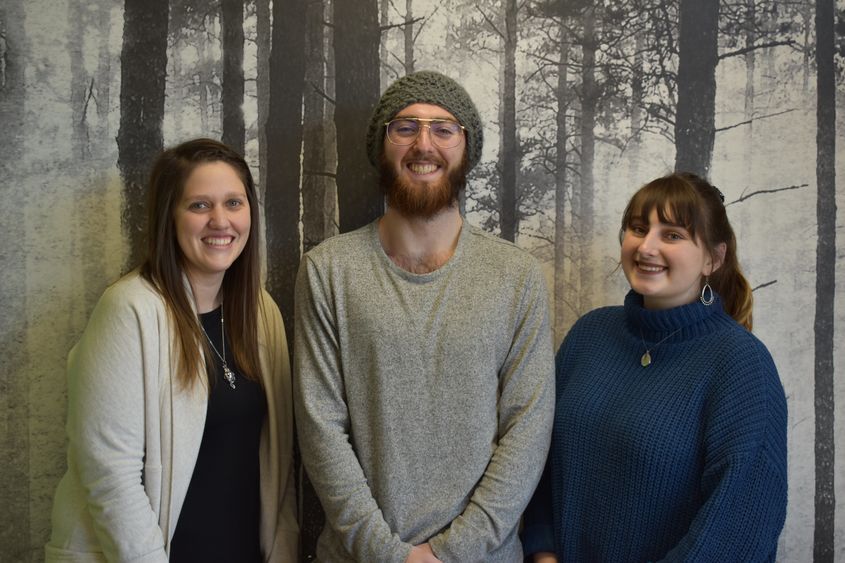 The 2019 Penn State DuBois THON dancers have been chosen. K.J. Long, Tristen Bressler, and Jamie Turner will represent DuBois at THON 2019, set for Feb. 15, until the 17, at the Bryce Jordan Center at University Park. They have been challenged to stay on their feet for 46 hours during the dance marathon at the Bryce Jordan Center on the University Park campus, alongside thousands of students from all Penn State locations.
Each year, THON, Penn State's Dance Marathon, raises millions of dollars for the Four Diamonds Fund. The event's sole beneficiary, and a leader in the fight against pediatric cancer, the Four Diamonds Fund fills in the funding gaps that insurance leaves for the patients it serves, enabling families to focus on caring for their child. Because of large donors like THON, Penn State Hershey Hospital recruits world-class talent to continue innovative research, and to maintain and expand the state-of-the-art Children's Hospital.
Long, a junior majoring in human development and family studies from Wishaw, Pennsylvania, said she was inspired to support THON and be a dancer by friends who introduced her to the event last year.
"When I went down to the event, it was the most powerful event I ever saw," Long said. "It was the most amazing thing – people from all over Pennsylvania supporting the kids with pediatric cancer. I wanted to keep that passion going."
Bressler is this year's Penn State DuBois THON chair, and a sophomore majoring in petroleum and natural gas engineering from Curwensville, Pennsylvania. "The ripple effect explains THON really well. Like throwing a pebble in water, it makes a wave of impact," Bressler said. "When you see people coming together for the kids, it's really motivating."
Turner is a senior business and marketing major from Luthersburg, Pennsylvania, who has very personal motivation for her involvement with THON. "I had two little cousins who had cancer and beat it," said Turner. "It's important for people to know what family members go through. I'm excited to go down and represent us and help support the kids. It's a good message to send, that showing of support."
Students involved with THON raise money in a variety of ways, putting in long hours even in the months leading up to the dance marathon. They hold dinners, Bingo fundraisers, solicit donations, and more. There is also a hair auction during the THON Dancer Sendoff Dinner on Thursday evening before THON Weekend that allows for bids to be placed to reach a reserve for each person who has volunteered to get their hair cut. That event is scheduled for Thursday, Feb. 14.