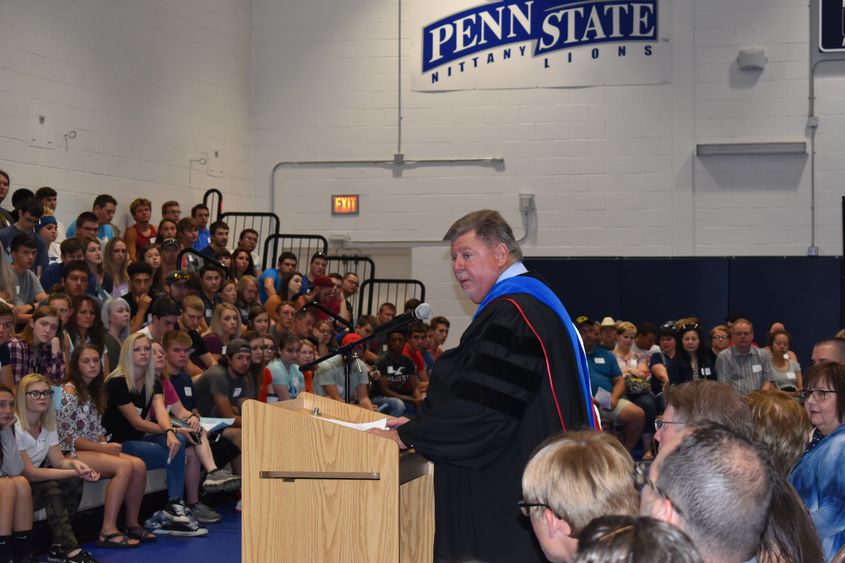 DUBOIS, Pa. — The 2018-19 academic year officially kicked off at Penn State DuBois with the campus Convocation Ceremony and New Student Orientation on Thursday, Aug. 16, as well as with other events throughout the week.
New students and their families were welcomed by Chancellor M. Scott McBride during Convocation in the campus gymnasium.
"Today marks the beginning of the rest of your life. The opportunity to earn a coveted Penn State degree is why you are here, but it is far from the only life-changing thing that you will take away from your Penn State experience," McBride told the students. "You will discover your passions, your capacity for tolerance and understanding, and your ability to dig deep within yourself to achieve far more than you ever thought possible. It's a time for significant personal growth, for taking responsibility for your own journey, and finding your own unique path for reaching your goals."
McBride urged students to get involved outside of the classroom, and to immerse themselves in the college experience, and to take advantage of every growth opportunity.
"One very gratifying way to use your energy and talent outside of the classroom is through service to others," he said. "In fact, tomorrow you will participate in a community service project as part of your New Student Orientation. For many of our students, service to others becomes a deeply meaningful part of their learning experience at Penn State DuBois. Participating in community projects, raising money for charity, and donating time to programs that assist children or senior citizens are some of the rewarding ways that students give back to others. By serving others, everyone wins. We learn life's lessons, new skills, and become more civically engaged. It's through these experiences we realize that, as stakeholders, we are the owners and benefactors of building better communities for ourselves, our families, and our fellow citizens."
Director of Enrollment Melissa Duttry also welcomed students to the campus. She explained that the student population on campus is a truly diverse group.
"Some of you have traveled far to get here. Our longest journey was from 7,200 miles away in Eastern China. In the bleachers today, we have students from two countries, eight different states, and 84 different towns. You represent 80 different high schools," Duttry said. "I encourage you to embrace your education; take advantage of all of the valuable resources that Penn State offers you. Strive for rich experiences. Push yourselves out of your comfort zone. Meet new people and make new friends."
Students spent the remainder of their New Student Orientation on Thursday completing icebreaker exercises, scheduling courses, meeting with their academic advisers, and attending information sessions on how to be successful as a college student. They completed service to others during Community Outreach Day on Friday, when they volunteered at various charitable and community-minded organizations throughout the area as the final piece of their orientation.
Leading up to the opening of the academic year, faculty and staff at Penn State DuBois met on Tuesday, Aug. 14, for a full-day organizational retreat. They discussed future strategies for the campus that will assure the highest quality in education and service is provided to Penn State DuBois students.
At the retreat, McBride said to faculty and staff members, "I've often thought that one of the more appealing features about working in higher education is the process of renewal. Each year we have the opportunity 'to take a mulligan' — to do better than we did the last time. Each academic year we are empowered to turn a new leaf, atone for our past transgressions, and forge ahead to become our best selves.
"But consider this: as we reinvent ourselves with our annual 'do over,' by contrast, our students have a one-time-only opportunity to succeed in their first day, first week, first month, first semester, and their first year as a Penn State DuBois student. And if any one of our students falter at any stage along the way, they are in danger of dropping out and losing their way toward a more enlightened and prosperous future. Our challenge and opportunity is to do all that we can, from the positions that we hold in this village, to work together to ensure the success of each and every student that we enroll."
Student speakers attended Tuesday's program to share with faculty and staff some of their stories and experiences on campus that helped them on their educational journey. Among them was returning adult student Mike Volosky, an engineering and business major. He said, "I retired after 20 years in the Air Force, and I found out I was institutionalized. I didn't know who I was anymore. So many here helped me find my way."
A continued dedication to the success of students is what McBride hoped to stress to faculty and staff on Tuesday. He further illustrated the importance of that success to the students themselves, gathered in the gymnasium on Thursday.
"Remember, this is the first day of the rest of your life," he said. "Make it count. Make yourself into the kind of person that you dream of being."