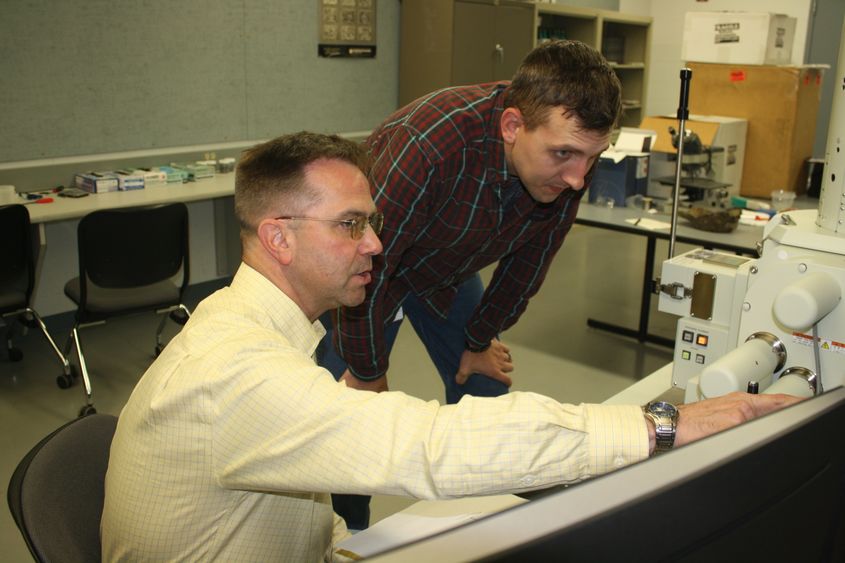 DUBOIS, Pa. — For the second time during his student career in the Penn State DuBois Engineering program, Kyle Bear has had a research article published in a top industry magazine. Having heard of Bear's research in powder metal production processes, editors from "Thermal Processing" reached out to Bear and asked if he could pen an article for them with updates on his progress. His initial article appeared in the American Welding Society's Welding Journal in May of 2017.
The latest article, "Filler metal control in sinter brazing," details Bear's research into improving bonds through sinter brazing, a process similar to welding that connects powder metal pieces together to form working parts. The powder metal industry provides parts for everything from cars to home appliances, for companies around the globe. He is researching this process with his instructor in the Penn State DuBois engineering program, Stephen Feldbauer, who coauthored the article, along with lab technician Glen Rishel and applications engineer Brian Smith.
Bear and Feldbauer experimented with and discovered ways in which to increase the strength of these bonds between the powder metal pieces by controlling the flow of the metal at the bonding location during the brazing process. Their discovery results in parts that are more dependable and longer lasting, as well as more affordable, helping to expand the competitiveness of the powder metal industry.
"Our goal is controlling how the metal flows while you form the braze," Feldbauer explained. "That allows us to change the composition of the filler metals and reduce the cost of the filler metal itself. Metals used for this have a substantial amount of nickel in them. Right now there are only one or two chemistries of filler metals like this that work, but if we can open this up and change the chemistry of metals without nickel to bond parts, it will significantly lower the cost, and lower the cost of the part overall."
Feldbauer said that once perfected, this may result in a 10 to 15 percent savings in filler metal materials costs in powder metal production. That, he said, is what is getting their research international attention.
"Everyone is interested in knocking down costs," Bear added. "We're taking it further each time we try something new. It's good to know what works and what doesn't, but it's a long process."
Feldbauer also works as the director of Research and Development at Abbott Furnace in St. Marys, Pennsylvania, which brings him a unique perspective as a working professional as well as an educator.
"We have been able to leverage my position in the industry by knowing what problems need to be solved," he said. "We take advantage of that in this engineering program to train the next generation of leaders in this industry who can solve these problems."
Kyle Bear is a U.S. Army veteran, originally from Chelsea, Michigan, who sought out the Penn State DuBois engineering program in order to launch a second career after his service in the armed forces. Entering his senior year in the fall, he never dreamed he'd get international attention within the powder metal industry before he even graduates.
"It's still strange to me that a lot of people are reading these articles," Bear said, crediting Feldbauer as a mentor. "I wouldn't be here if it weren't for him."
Feldbauer responded saying, "There's nothing more rewarding than seeing your students grow and become recognized in the industry."