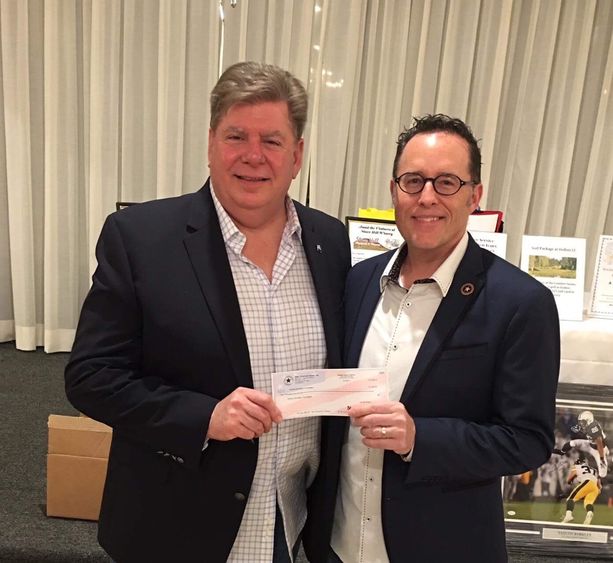 Starr Hill Winery of Curwensville recently made a $1,000 donation to support student programs at Penn State DuBois. The winery offers a "Vintner for a Day" package each year at the campus' Lion Wine and Cheese fundraising auction. The winning bidder then gets the chance to produce and bottle their own wine at the winery with a portion of sales of that wine coming back to campus. This donation is a portion of the proceeds from last year's wine named "DuBois Double Play."
This year, the "Vintner for a Day" package brought in a winning bid of $350 for the campus, in addition to the $1,000 gift.
Each year the Lion Wine and Cheese auction is held in support of athletic and student events at Penn State DuBois. The fundraiser generated more than $10,000 this year. The evening features wine and cheese tasting, craft beer tasting, heavy hors d'oeuvres, and dessert. Live and silent auctions, raffles, and other games of chance are also held. Numerous businesses and individuals in DuBois and the surrounding areas donate prizes and auction items to the event, which was sponsored by Johnson Motors and Johnson Subaru.
Private gifts to Penn State DuBois advance "A Greater Penn State for 21st Century Excellence," a focused campaign that seeks to elevate the University's position as a leading public university in a world defined by rapid change and global connections. With the support of alumni and friends, "A Greater Penn State" seeks to fulfill the three key imperatives of a 21-century public university: keeping the doors to higher education open to hardworking students regardless of financial well-being; creating transformative experiences that go beyond the classroom; and impacting the world by fueling discovery, innovation and entrepreneurship. To learn more about "A Greater Penn State for 21st Century Excellence," visit greaterpennstate.psu.edu.