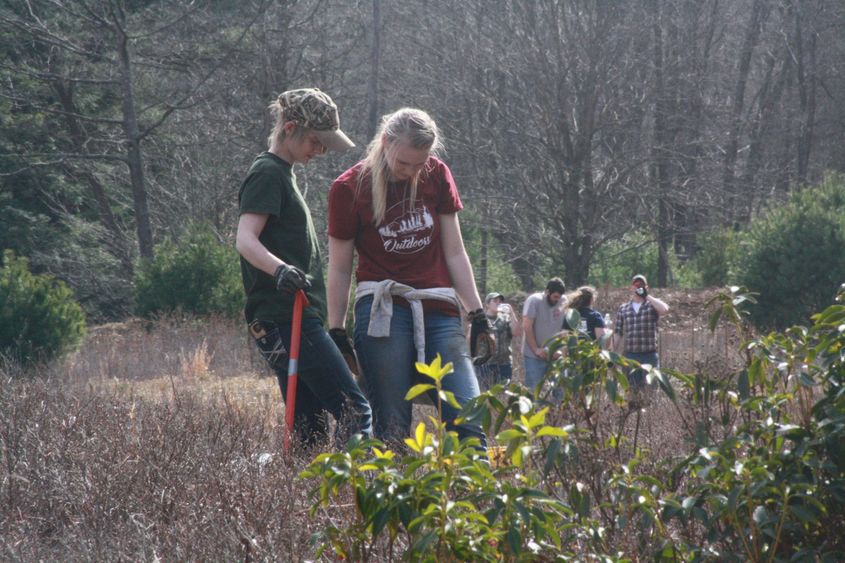 A group of students in the Penn State DuBois Wildlife Technology program partnered with local and state organizations to help improve the habitat of a wild trout stream in the area. Situated at the edge of S.B. Elliott State Park on Rockton Mountain are privately owned properties through which the stream, Montgomery run, flows. Eventually, the stream empties into the reservoir that provides the City of DuBois' water supply.
As part of their Silviculture class, students joined forces with representatives from the Clearfield County Conservation District, The Department of Conservation and Natural Resources' (DCNR) Bureau of Forestry, and the Allegheny Chapter of Trout Unlimited to help improve the habitat for native trout in this section of Montgomery Run. The biggest effort has been in planting trees, which can make surprising changes, according to Kelly Williams, a watershed specialist with the Conservation District.
"With no trees in this area, it makes the water too warm for trout," Williams explained. "Trees will eventually shade the stream and keep it cool."
The lack of trees in the area is due to the impact of a logging operation over a century ago. However, it's not only because trees were harvested from the site.
"A splash dam left here in the late 1800's from logging caused this area to flood over and over again though the years, which didn't allow trees to fill back in. It did allow for grass to take root. Once grass takes hold, that keeps the trees out," Williams explained.
The dam would have been used by loggers to intentionally flood their log landing in order to float timber downstream to a saw mill. But when the logging was done, the dam remained in place, with a portion of it still intact even today.
While has dam deteriorated enough that the area no longer floods, it does remain a wetland, with soft, soggy soil. That led experts to seek out tree species to plant that would thrive in that environment.
Rick Conrad, a forester with the DCNR Bureau of Forestry explained, "We chose trees that do well in wet areas, as well as species that are native to this part of the state. We also chose trees that will shade the stream well and keep it cool. That's a lot better for aquatic life."
The tree species they chose were white pine, elderberry, river birch, American sycamore, and black willow. In all, 1,100 trees will be planted, with white pine being the predominate species, at 600 trees.
"I think this is an awesome learning experience," said Wildlife Technology student Morgan Silvis, of Tionesta, PA. "It's great to contribute something to wildlife in the area."
"It's really adding to my experience," agreed student Katelyn Blystone, from Smicksburg, PA.
Williams, a graduate of the Penn State DuBois Wildlife Technology program herself, said a win-win is just what she had in mind when she contacted campus faculty for help on the project.
"I graduated from Penn State DuBois, and now I'm working in Clearfield County, and it was awesome to reach out to my alma mater for help," Williams said. "Without these students, getting these trees planted would be impossible. And they get a nice field experience, too. It really benefits both groups."