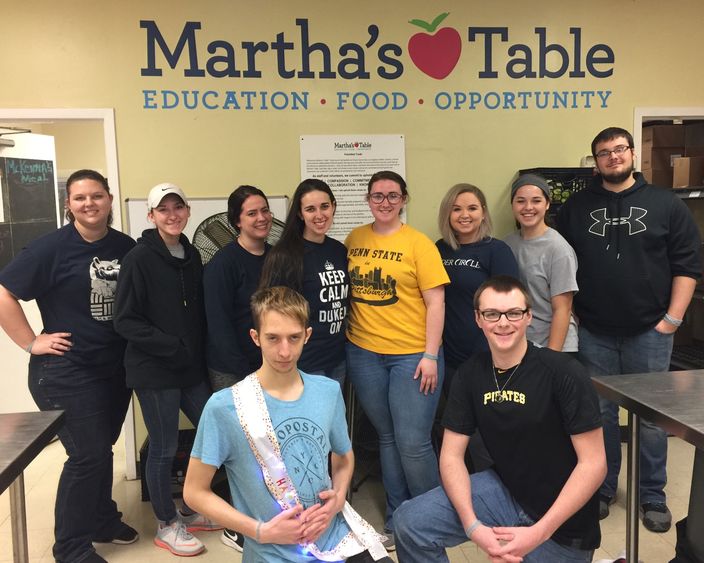 DUBOIS, Pa. — Beginning in 2008, alternative spring break service trips became an annual event for Penn State DuBois students. This year, the campus celebrates 11 years of combating societal ills in communities all around the country. Alternative Spring Break 2018 saw 10 students travel to Washington, D.C., where they spent their break helping people who are homeless or live in impoverished conditions. They volunteered to prepare and distribute food, hygiene supplies, and clothing; they helped to sort donations, and learned more about epidemic rates of homelessness and gentrification in D.C.
Instructor in Human Development and Family Studies Marly Doty has organized each of these 11 trips, and teaches a corresponding course on campus in which students learn about societal issues, what programs and services currently look like, and what individuals can do to help others in need. Doty explained, "For students to really get a close look at homelessness and poverty in the U.S., it's very eye opening. This is engaged scholarship. We talk about these things in class, but when the students actually see it, it's really impactful. This trip specifically works to break down the stigmas associated with homelessness."
A senior in information science and technology, Ryan Lingle said early in the trip, "In two days, I've already experienced and witnessed several things that I won't be able to unsee. But also in these past two we've made a difference in some individuals' lives. Helping out even one person so that they can have to food and supplies to make it another day fills my heart with happiness. Change is happening."
Some of that impact is made by going off the beaten path. Doty said, "If you visit D.C. as a tourist, you don't see it. People work very hard to keep the homelessness epidemic hidden. But, go three or four blocks from the monuments and that's where you see it. In Franklin Square, we saw about 75 people who are homeless staying there. When I visited three or four years ago, that number was about 25. So, it's getting worse."
Kyrsten Enseki, first-year student in animal science, said, "It can happen to anyone and can't be ignored any longer."
In fact, according to the Department of Human Services, a 2017 study revealed there were 7,473 people who were experiencing homelessness in the District of Columbia, 897 of whom were unsheltered, 5,363 were in an emergency shelter, and 1,213 were in a transitional housing program.
Doty said gentrification has contributed to the rate of homelessness in D.C. "It can be a tactic to force people out who are of lower socioeconomic status. Apartments are renovated and priced above what some can afford. They're left with nowhere to go. Businesses that attract people with higher incomes move in. Those business try to push out lower income people in the neighborhood. At Franklin Square, there is a homeless shelter that has been closed since 2008. It sits empty because the businesses around it protested it so much. These things are powerful for students to see."
To help make an impact for those in need, students did things like meal preparation at D.C. Central Kitchen. The facility produces 4,500-5,000 meals a day that are distributed to area homeless shelters, relieving the burden on the shelters to feed their clients, and allowing them to focus on other services. They also volunteered at Central Union Mission, a Christian men's shelter where they did laundry, cleaned, and prepared beds for more than 80 people.
Working with an organization called Martha's Table, they also participated in the Joyful Food Market, as well as McKenna's Wagon. The Joyful Food Market is a program that visits elementary schools and offers fresh fruit and vegetables to the students through a fun, interactive program, during which a chef teaches them a healthy recipe. The students then take home fruit and vegetables free of charge. There are only two grocery stores in the area that provided fresh fruits and vegetables, to a population of approximately 700,000 people. With McKenna's Wagon, volunteers load up a van and distribute meals throughout the city.
The students also worked to sort donations at a free store called A Wider Circle, where individuals can find a large variety of items, all free to them. Additionally, they completed service at Capital Area Food Bank Donation Center, where they sorted hundreds of boxes of nonperishable goods. This aided in efforts of the center's Weekend Bag program, which distributes food to 2,500 children.
Alaina Shaffer, a senior in the HDFS program, summed it up by saying, "There is always something to be grateful for, even in the darkest, most trying moments."