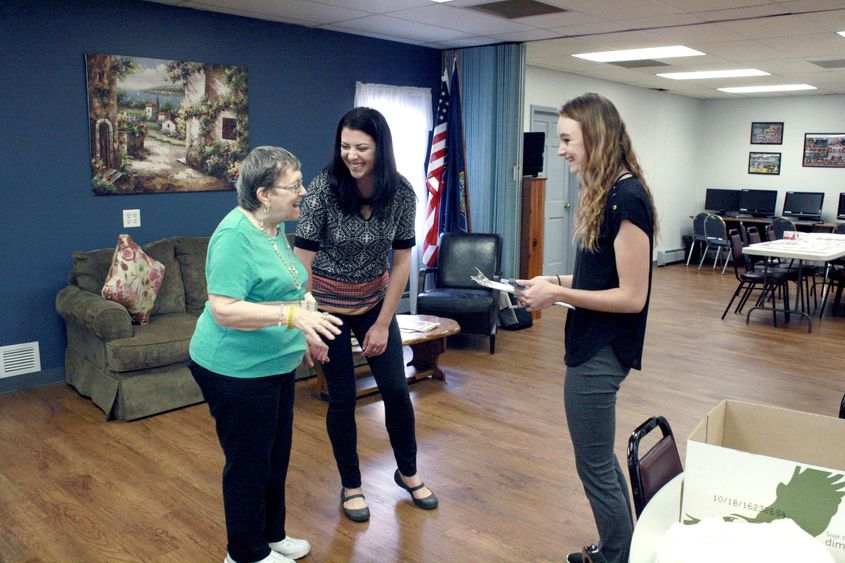 DUBOIS, Pa. — Students in the Penn State DuBois Physical Therapy Assistant (PTA) program have helped to restore confidence and freedom to some local senior citizens through a fall prevention program. The students held a workshop at the DuBois Senior Center on the first day of fall, a day that the National Fall Prevention Awareness Initiative is held each year. The initiative is the result of a collaboration between the National Council on Aging, the American Physical Therapy Association, and the American Occupational Therapy Association.
According to the National Council on Aging, each year one in four Americans over the age of 65 is injured as a result of a fall. Falls are also the leading cause of fatal and non-fatal injuries for older Americans. The workshop the PTA students provided for individuals at the senior center is aimed at reducing the risk of falls by identifying for participants what risks they have, and how severe that risk might be. Based on an assessment, the students were able to advise those people on exercises they could perform to strengthen their body in order to reduce the likelihood of taking a fall. The assessment was based on an individual's performance during a set of exercises such as sitting and standing, walking, bending and more.
"I really feel this is helpful. I'm going to do these things they told me to try," said DuBois resident Judy Dunlap. "I'm legally blind, and I do feel that makes more of a risk for me."
For the students, who are preparing for careers in the physical therapy field where they'll have direct impact by providing therapy to patients, the real-world experience is also helpful for them.
"They practice in the lab on each other, but now they're with real people; this is real," said Assistant Teaching Professor of Physical Therapy Barb Reinard. "Until now, they've only worked on each other. They'll go to clinicals in December, so this is helping them to prepare to work with real patients when they begin their clinicals."
Student Hannah Eckert said, "It was really nice to get hands-on experience working with real people. It was a nice way to apply everything we have been learning in the classroom. I liked educating real people on their balance and how they could improve to prevent falls. It was fun to get out of the classroom for a day and apply what we've learned."
"This experience really enhanced my education," said student Logan Hutton. "We practice on each other in the classroom, but everyone is physically able to perform every exercise. This showed me that some people can't perform every task without struggle."
In many ways, this type of experience will enable students to better serve their patients when they transition to professional health care providers. Reinard said, "Some of the unexpected things students see is how people try to hide their limitations. It's a pride thing. They don't like others to see that they can no longer do things they used to be able to do. This helps these students develop those interpersonal skills to be able to react appropriately to people with health issues."
"I learned how to better interact and explain what I know. I learned more about explaining balance, risks for falls, and what people can do to improve," Eckert said.