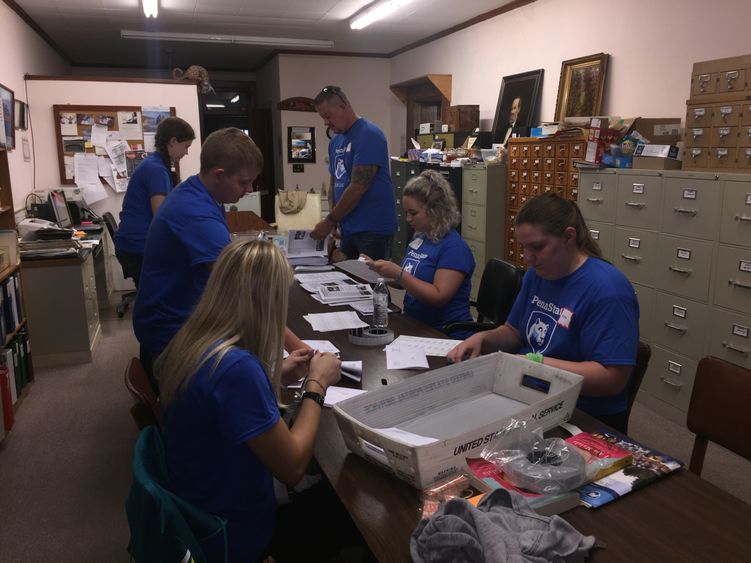 DUBOIS, Pa. — A total of 146 new freshmen, plus their faculty and staff group leaders, reached out to communities throughout the region on Friday (Aug. 18) for Penn State DuBois Outreach Day. Each year, as part of New Student Orientation, new students volunteer at various charitable and community oriented organizations in the area, giving students a look at the importance of service, while lending a hand to local charities.
In all, 17 organizations were served this year, including Habitat for Humanity, The Soul Platter Café, Jefferson County Area Agency on Aging, Tri-County Church, Brockway Depot, Bilger's Rocks, The Salvation Army, Boy Scouts of America, DuBois Historical Society, DuBois Continuum of Care, Gateway Humane Society, The Red Mission House, Rumbarger Cemetery, Special Olympics, The American Red Cross, Children's Aid Society, and CAST.
Each group was led by a campus faculty or staff member, as well as a student orientation leader, who then took students to their work site for the day. They performed landscaping, cleaning, litter pick up, and other duties that met the needs of their specific service site, in order to give back to their local communities around DuBois, Clearfield, Brockway, and beyond.
"It's important that students engage in community service right off the bat. It teaches them about social responsibility and places where they can get involved," said Instructor of Human Development and Family Studies Marly Doty, who organized this service effort with the Office of Student Engagement. "That blossoms into future projects, community service trips, and even jobs. They're making connections, meeting people, and giving back. It increases their odds for success and builds a stronger community all at the same time."
The students agreed that making service a part of their orientation helped with building their community ties.
"I really like it," said freshman Scot Coble. "It's important to give back to the community and to other people, so that others can enjoy our communities. It's interesting to have this opportunity to get out and learn more about what's here, too."
"It's a nice chance to get out and learn more about the community and see where we can help," added fellow freshman Jerimiah Irvin.
Terry O'Connor appreciates that help as the president of the Bilger's Rocks Association. He and fellow association members oversee the park near Garmpian, Pennsylvania, that surrounds the 320-million-year-old network of giant sandstone boulders, caverns and caves. Here the group cleaned up litter from around the grounds, put up signs, and more.
"The survival of the park depends upon volunteer efforts," O'Connor said. "We want to take advantage of the generosity of people willing to help, and we want them to come use this place, too."
Classes for Penn State DuBois students begin on Monday, Aug. 21.