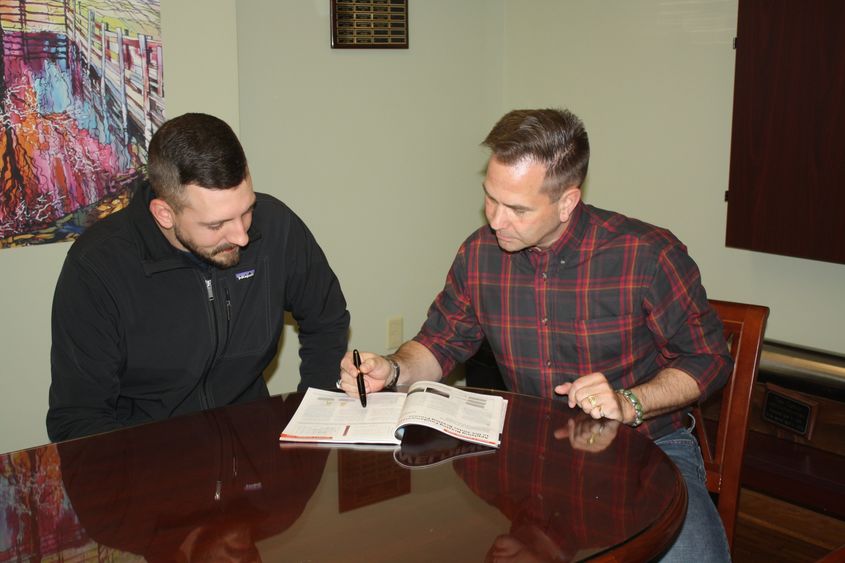 DUBOIS, Pa. — When Kyle Bear applied to the General Engineering program at Penn State DuBois, he never imagined he may help to influence an entire industry. The U.S. Army veteran, originally from Chelsea, Michigan, sought out the program in order to launch a second career after his service in the armed forces. He got more than he planned for already, however. While still a sophomore Bear co-authored an article on research he is conducting with a faculty member, and his work is getting international attention.
"Fundamentals of Sinter Brazing" appears as a cover story in the May 2017 issue of The American Welding Society's Welding Journal, an industry publication with a readership of over 70,000.
Dealing directly with the Powder Metal industry, Bear's work focuses on improving bonds through the process of sinter brazing, a process similar to welding that connects powder metal pieces together to form working parts. The powder metal industry provides parts for everything from cars, to home appliances for companies around the globe.
Stephen Feldbauer, an instructor in engineering at Penn State DuBois and expert on brazing, conducted the research on this subject along with Bear and coauthored the article. Contributions were also made by lab technician Glen Rishel and applications engineer Brian Smith.
Feldbauer explained, "In powder metal, we make parts out of molds. You can only get limited shapes from the molds. Sometimes you have to mold multiple pieces and connect them to form a part."
Bear and Feldbauer experimented with and discovered ways in which to increase the strength of these bonds between the powder metal pieces by controlling the flow of the metal at the bonding location during the brazing process. Their discovery results in parts that are more dependable and longer lasting, helping to expand the competitiveness of the powder metal industry.
"Applying this process in one instance has taken a 15-percent to 20-percent fail rate of parts and taken it down to only one or two parts per million that fail," explained Feldbauer.
The improved product quality resulting from this process can help companies to save costs, function more efficiently, and yield better products, which is why the research is making such a buzz.
"It's an interesting feeling to know that what we are working on, people really care about," said Bear. "It feels good that it's something that's all new, it hasn't been done before. Hopefully, this rewrites part of the handbook and becomes an industry standard."
"We can help to educate an entire industry with this, and help to move a whole industry forward," added Feldbauer.
Bear will be among six Penn State DuBois students to present research at the International Powder Metal Conference, to be held in Las Vegas in June; one more opportunity that still has him in disbelief.
"It really is a great opportunity at Penn State DuBois, and if it hadn't been for Steve, I don't know where I'd be," Bear said. "I didn't even know what I was getting involved with at first. It's good to know it's paying off. I get to do stuff not everyone gets to do; write articles, present at conferences. I can't believe it's led to this."
Feldbauer added that Bear is deserving of accolades for his skill and dedication, saying, "He's an exceptionally gifted individual. He learns quickly, he's dependable. And, as an adviser, the reward for me is watching the student grow and improve. Seeing his name at the top of the article is so rewarding."
Bear will return as a junior in the Penn State DuBois General Engineering program in the fall. He and Feldbauer plan further research, and follow up articles on their findings. More information on the American Welding Society and the Welding Journal can be found at https://app.aws.org/wj/