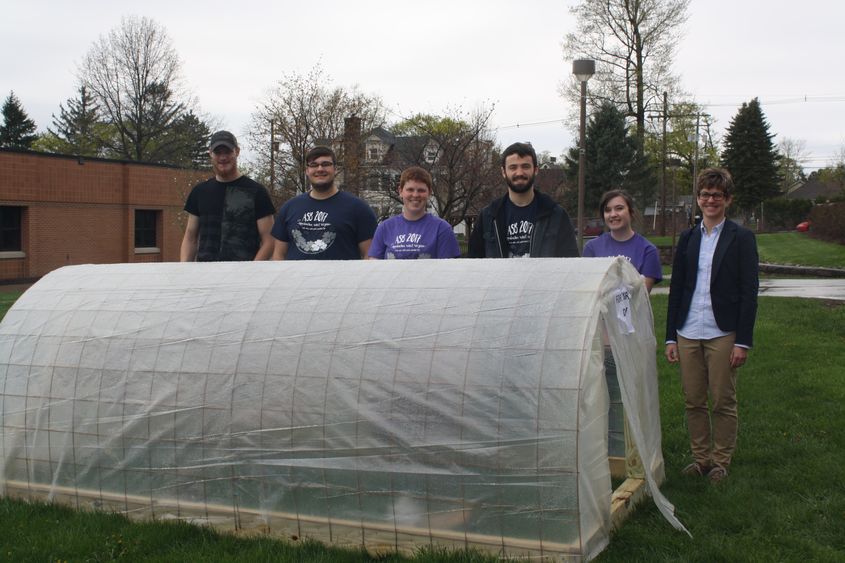 DUBOIS, Pa. — A group of Penn State DuBois students has made a contribution to help support a local community garden through a service project. Students Austin Miller, Coby Gardener, Cortney Hedlund, Kristy Hanes and Ryan Lingle gathered supplies and built a mini high tunnel that they donated to the DuBois Community Garden, located off of Liberty Boulevard. The domed, wood-framed structure, covered in clear plastic, is essentially a small green house that will protect plants from the elements and aid growth.
The students completed the project as part of their Alternative Spring Break (ASB) service work. This year, students on the ASB trip traveled to parts of West Virginia and Kentucky where they volunteered with community organizations to help rejuvenate the region through fresh, health-centered and economic initiatives, working in community gardens and on local farms. During the trip, they learned how to build high tunnels, as well as complete other tasks related to community agriculture.
As part of the ASB experience, students are required to take a corresponding course on service and, working in groups, complete a final project as part of the course. This group chose the high tunnel as their project, and fulfilled their service mission by donating the product of their work.