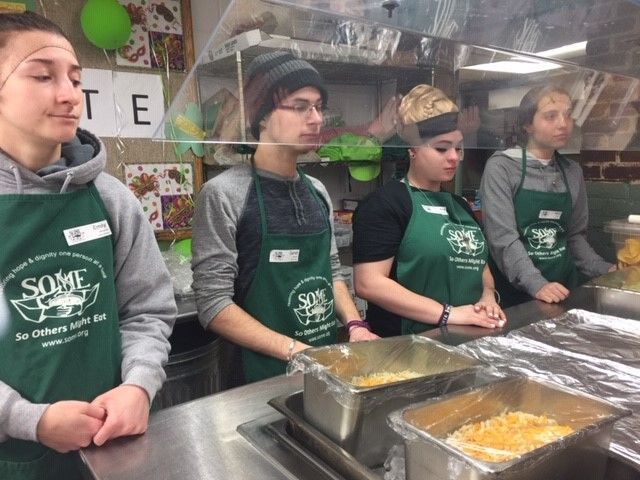 DUBOIS, Pa. — A group of 19 Penn State DuBois students returned from a spring break trip with new experiences and a fresh perspective on a number of social issues. Rather than spend the 2019 break on vacation, these students chose to participate in Alternative Spring Break (ASB), and travel to Washington, D.C., where they spent their break helping people who are homeless or living in impoverished conditions.
They volunteered to prepare and distribute food, hygiene supplies, and clothing; they helped to sort donations, and learned more about epidemic rates of homelessness and gentrification in D.C. This group also distributed "Purses with a Purpose," a collaboration with the Occupational Therapy Assistant (OTA) program on campus from the fall semester. The OTA students collected gently used purses and packed them with hygiene items for the ASB students to distribute to individuals at shelters.
Through their work at service sites during the week, students got a hard look at the issue of homelessness, what services are available to combat the issue, and an introduction to possible solutions. All told, they completed over 450 hours of service over spring break.
The first ASB organized for Penn State DuBois students took place in 2008. Now in its 12th year, ASB has given dozens of Penn State DuBois students the opportunity to serve others in communities all around the country, from D.C., to the Navajo Nation in Arizona, to New Orleans, and more. Instructor in Human Development and Family Studies (HDFS) Marly Doty has organized each of these trips and teaches a corresponding course on campus in which students learn about societal issues, what programs and services currently look like, and what individuals can do to help others in need. Doty was joined this year by fellow program faculty member and group leader Jessica Clontz.
"It's disheartening to travel to our nation's capital and see some of the highest rates of homelessness. I'm encouraged by the students' desire to learn about the issue through this engaged scholarship opportunity by applying and exploring what they've learned in the classroom by experiencing it firsthand," said Doty, reflecting on this most recent trip. "We need to put concerted effort into affordable housing for everyone."
According to the Department of Human Services, a 2017 study revealed there were 7,473 people who were experiencing homelessness in the District of Columbia, 897 of whom were unsheltered, 5,363 were in an emergency shelter, and 1,213 were in a transitional housing program.
Doty explained that encountering poverty and homelessness first-hand is eye-opening for students and helps to break down stigmas associated with homelessness.
Illustrating Doty's point, students said they were heavily impacted by their involvement. HDFS student Laura Ruane said, "My experience was emotional. It really opened my eyes to how wrong I was with the correlation between addiction and homelessness. I thought addiction caused homelessness but in reality, addiction is a negative consequence of homelessness."
Business student Leandra DeMarco said, "This experience impacted me in so many ways, the biggest being emotionally. It was a huge culture shock and it was hard to see so many people struggling. Hearing the stories of the people who are experiencing homelessness completely changed my outlook on homelessness and life in general. I heard stories of those who had previously gone on the Alternative Spring Break trips and everyone who went had so many good things to say, but you never really know what it's like until you experience it."
Kira Fry, an occupational therapy assistant major said, "The time I had in D.C. was unlike anything I have ever experienced. I learned so much and I am so grateful that I was able to meet the people I did, while learning about their situation."
Clontz said the interactions for her were a reminder of work that needs to be done to assist those in need, but also made it clear that change begins with one individual.
"Serving people experiencing homelessness, poverty, and hunger in the D.C. area brought to light the incredible need for systemic changes in our nation," she said. "The experience as a whole reminded me of the power of kindness and the need to be an advocate for others."
Some of the students learned more about those very sentiments through these real-world lessons in the nation's capital. Hayley Knepper, an administration of justice student said, "Alternative spring break has been such an amazing learning experience and words can't describe the rollercoaster of emotions and feelings that resonated throughout the week. Every contribution we gave this week made me regain hope in humanity and realize that there are so many people out there who care, but there needs to be more. Homelessness is an issue people don't seem to understand entirely and look at with a skewed perspective. It won't be solved overnight but if more people could help the world would be a better place."
HDFS students Niki Chew and Keeley Chiodo agreed. Chew said, "This trip allowed me to walk in many people's shoes and has left such a big footprint in my life. I would do this opportunity again, without a doubt."
Chiodo echoed, "Volunteering with the population that is experiencing homelessness was an eye-opening experience. I learned so many things and I would love to go back."
In addition to the feelings of gratitude and fulfillment that come from helping others, and the lessons learned on life and society, there is another pleasant side effect to ASB. Friendship.
Elementary education student Elizabeth Johnson said, "I have learned more about myself that I never knew before, and I have learned so much about the impact service has on those who are facing homelessness. Thank you to everyone who was able to share this experience with me. I have made so many new friendships through this trip that I hope will last a lifetime."
Heather Witherow, and education major agreed, saying, "We shared so many incredible memories, emotions and experiences, and gave each other so much love and support throughout the week. These classmates turned into my new friends, and those new friends turned into my family. Each and every one of them has a heart of gold, and I am thankful to have gotten to spend each moment of this trip with them."
This ASB trip was made possible, in part, by Chancellor M. Scott McBride, the DuBois Educational Foundation, Penn State DuBois Student Affairs, and the Student Engagement Network at University Park.