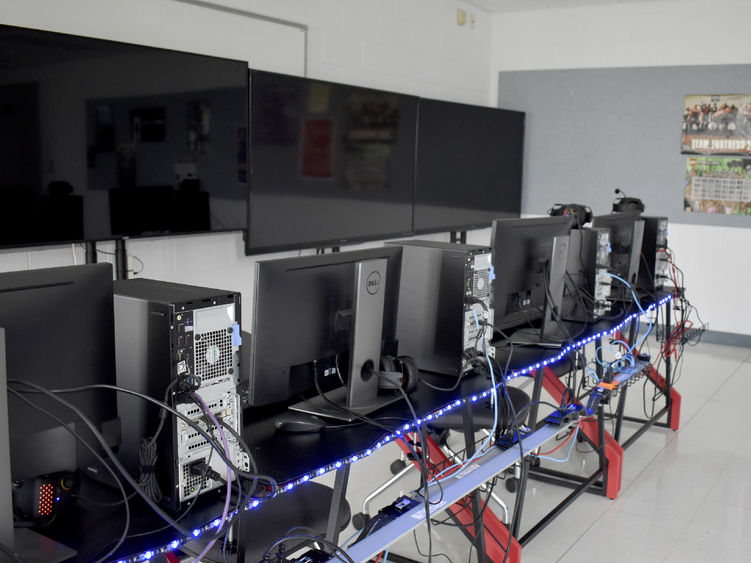 DuBOIS, Pa. – One of the most popular events at Penn State DuBois, Video Game Day will return for the 2023 edition on Saturday, Nov. 11, in the DEF Building on campus.
Hosted by the campus Information Technology (IT) Club, this event will provide gamers with multiple computer labs networked together with PC games, counsel games in multiple rooms, and features tournaments in various games throughout the day. The newly created esports room will also be utilized as part of this event.
Our goal for this event is to have a fun, safe Saturday night of gaming for everyone.

—Abagail Kellogg-Long , Penn State DuBois IT Club president
"At our event, try to have a wide variety of games so that we have something that appeals to everyone," Abagail Kellogg-Long, IT Club president, said. "Our goal for this event is to have a fun, safe Saturday night of gaming for everyone."
"Everyone involved with this event has a passion for gaming, that's one of the many reasons we love hosting this event," Darin Glass, IT Club vice president said. "It allows people to connect with others that share the same interests and that's something unique for our area."
All gaming systems are set up and networked by campus IT Club members and IT students who gain real-world experience in the establishment and maintenance of this massive gaming network.
"I will be the first one to admit that I look forward to this event every year because I'm a gamer myself," said Jason Long, assistant teaching professor in information sciences and technology and IT Club adviser. "But this really does give our students the opportunity to use the skills that they are learning in the classroom in a real environment. The set up and troubleshooting that the students see as part of this event are reflective of what they will see in their careers once they graduate. A number of my graduates received outstanding positions due to their involvement with Video Game Day."
Preregistration can be completed online through the IT club website. Preregistration is $5 per person and limited to 150 people. Admittance is $10 for those who register at the door. Each registered player will receive two slices of pizza and a drink during the event as part of the registration fee.
For more information, contact Long at [email protected], or visit istlab.net.