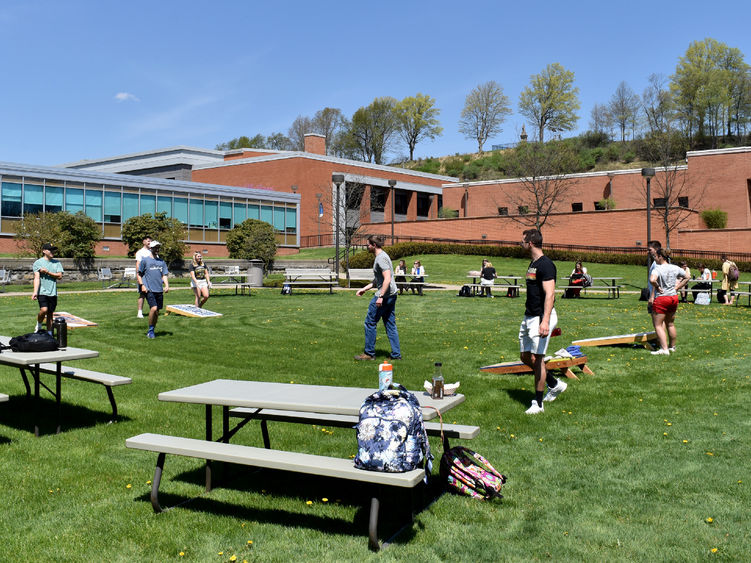 DuBOIS, Pa. – As the school year comes to an end, it is a time to reflect and celebrate the many highlights that Penn State DuBois has to offer, as well as the community itself! In a non-research related poll distributed to students, they were asked about their favorite places, foods, services and things to do on and off campus. The results allow for a spotlight to be shown on some of the best things students have chosen.
On-campus, the best place to hangout is in the Student Union, also known as the Lion's Den. This is where students can participate in grocery bingo, the most popular event on campus, and order a quesadilla from the on-campus café. Of course, college students love to hang out with their friends when they are on campus and the Student Union is a great place to do that. Students also must find some time to study. The best place to do so is the library, where tech, information and research resources are housed in a quiet and comfortable place. There are also a lot of different locations frequented by students, but their favorite building overall is the newly renovated PAW Center. With its updated amenities, ping pong tables, pool tables and much more, it has quickly become a very special place for all students.
Of course, it is not just the physical resources that make the Penn State DuBois experience so special. There are also faculty and staff members that make students' time here so enjoyable. In fact, the favorite service by many students is the intangible and ever-important counseling and mental health services provided by Colleen Lanzoni, campus counselor, who is also the favorite staff member. Moreover, the professor who has captured the hearts of so many is Marly Doty, lecturer in human development and family studies (HDFS), as she has impacted so many students' lives for the better, both inside and outside the HDFS program. Her dedication and outreach to the students is also reflected in her being awarded the Students Choice Service Award at the recent awards banquet.
Penn State DuBois students also spend time out and about in DuBois and several area hot spots were also identified in this poll. For overall eats, Luigi's Ristorante reigns supreme as the best restaurant. For a quicker bite to eat, the best pizza comes from the local Domino's, while the go to Sheetz run for students tends to consist of the customizable hot dogs. For sweet treats and caffeinated beverages, The Meadows Frozen Custard took home the award for ice cream style treats and the best coffee comes from Aegis Coffee Roasters in downtown DuBois. Aegis is also where most students like to go hangout with friends when they are not chilling at home. Additionally, when they are not hanging out with friends in DuBois, they enjoy shopping at TjMaxx and getting their groceries from Walmart. They are still students though, and diligent ones at that. So, when they are not studying at home, they enjoy staying on campus to get their work done.
These are the top preferences of the DuBois students! If you are a current or prospective student and you haven't already, make sure you check all these places and services out as well as stop by and say hi to Marly and Colleen to enjoy the Penn State DuBois experience! And if you are not a student or potential one, consider stopping at some of these local businesses, if you haven't already, to see what all the "buzz" is about!