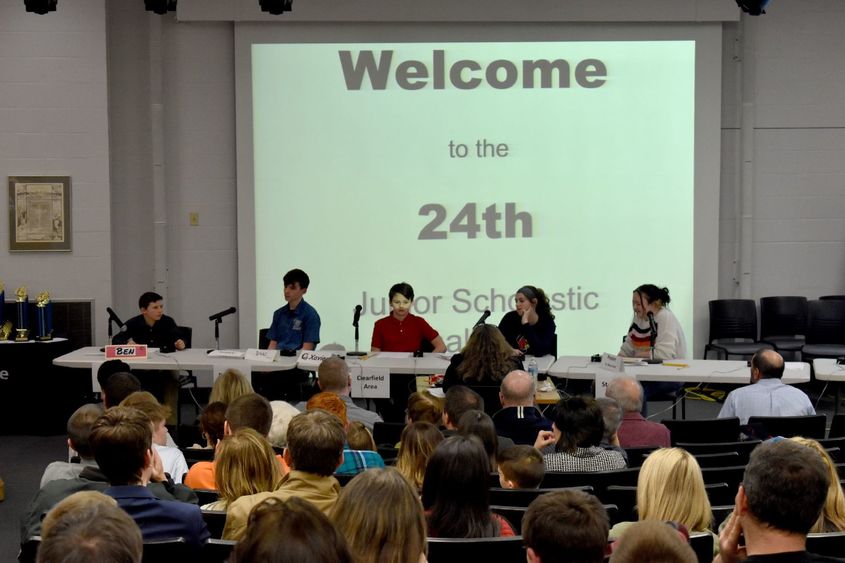 DUBOIS, Pa. — Young minds from around the region gathered in the Hiller Auditorium at Penn State DuBois on March 2 for the 24th annual junior scholastic challenge. Middle school students from five schools came together to test their knowledge in numerous subjects.
The event has been organized by Carol Foltz of Coldwell Banker Developac Realty for many years and made its triumphant return after being away because of restrictions caused by the pandemic. Foltz's tireless effort brought about the event's return and Penn State DuBois was honored to host such an amazing event for the students in the community.
Students from Brockway, Brookville, Clearfield, DuBois Central Catholic and Saint Marys each represented their schools in the competition, which was kicked off by master of ceremonies Brittany Madera before a special and unique rendition of the national anthem played by Ian Jay, a student at DuBois Area Middle School.
Jungwoo Ryoo, chancellor and chief academic officer, and Melissa Duttry, director of enrollment services at Penn State DuBois, each gave a welcome message to everyone in attendance and shared some insight into the campus and what Penn State DuBois has to offer its students.
The evening started off with four preliminary rounds with each school being represented by one of their team members. Each round contained 30 questions, with the first student buzzing in and answering correctly receiving 10 points from their team. Each of the rounds was highly competitive and the score was close throughout.
After the first round, DuBois Central Catholic held a 20-point lead over Brookville, but each team was within 50 points of the lead. DuBois Central Catholic extended their lead after the second preliminary round, leading the way with 120 points total through the first two rounds. Clearfield charged up to second place with 80 points, Brookville and Saint Marys held a tie for third place with 70 points and Brockway was in fifth place with 20 points.
The third round saw the highest single round points scored, with Kai Caskey of Saint Marys securing 110 points for his team and helping them to the lead with 180 total points after round three. DuBois Central Catholic moved back to second place with 150 points, Clearfield found itself in third place with 100 points, fourth place was held by Brookville with 80 points and Brockway had 70 points which put them in fifth place heading into the final preliminary round.
Saint Marys made another strong effort in the fourth round, adding 80 points to take their total to 260 points. DuBois Central Catholic held on to second place with 180 points, Brockway and Clearfield found themselves tied for third place with 120 points and Brookville had 90 points on the board, putting them in fifth place heading to the final rounds.
In the two final rounds, each school would send up two members of their team. While each school was represented by multiple students, they each worked independently and couldn't work together to find the correct answers.
DuBois Central Catholic used the first of the final rounds to charge ahead and retake the lead in the competition. Totaling 125 points from their two representatives in the round, DuBois Central Catholic held the lead going into the final round with 305 points. Saint Marys continued to hold a strong position with 300 points, just five points behind the leaders. Brockway now held third place on their own with 175 points, followed by Clearfield with 155 points and Brookville made up some ground as well, having 130 points total for the competition.
The final round of the night saw the overall lead change several times with several schools making a charge to try to secure the competition title.
When all of the questions had been asked and answers provided, Saint Marys used an 80-point effort from their team to bring their school total to 380 points to win the junior scholastic challenge. Second place was captured by DuBois Central Catholic with 345 points, Clearfield had a strong effort in the round with 70 points being added to their total, equaling 225 points to capture third place. Fourth place went to Brockway with 205 points and Brookville took home fifth place with 150 points in the competition.
The fifth-place team from Brookville consisted of team members (students listed in alphabetical):
Andrew Bazylak
Isaac Burns
Atticus Reynolds
Jordan Sarvey
Brylee Stewart
Advisor Melinda Burton
The fourth-place team from Brockway consisted of team members (students listed in alphabetical):
Cash Butters
Ben Fremer
Grace Koehler
Quinn Kopenhaver
Advisor Erin Shofstall
The third-place team from Clearfield consisted of team members (students listed in alphabetical):
Finnegan Dillon
Zane Jenkins
David Magnuson
Wyatt McCoy
Xavier O'Link
Advisor Barb Spila
The second-place team from DuBois Central Catholic consisted of team members (students listed in alphabetical):
Isaac Barber
Elizabeth Green
Sarah Kelsey
Antonio Piccirillo
Lily Sachs
Advisor Renee Gressler
The first-place team from Saint Marys consisted of team members (students listed in alphabetical):
Kai Caskey
Kay Gabler
Peyton Kline
Luke Vollmer
Peyton Wendel
Advisor Jamie Caskey
Two individual awards were also given out for the highest individual scores in the preliminary rounds and the final rounds. Caskey from Saint Marys took home the honor for the preliminary round with his 110-point effort and O'Link from Clearfield securing the award for the final rounds when all the individual points were totaled.
Penn State DuBois will also host the senior scholastic challenge, which will take place on March 16 at 6:30 p.m. in the Hiller Auditorium.