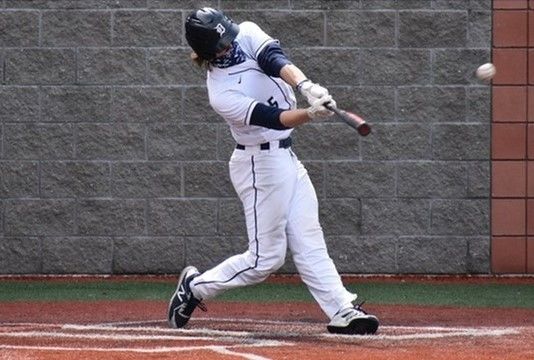 DuBOS, Pa. - The reigning three-time USCAA World Series Champion Penn State DuBois baseball team won their home opener Friday against the Westminster College Titans 16-5.  Taylor Boland would get the start from the mound for DuBois. 
A scoreless first inning for both teams quickly turned upside down as Dan Stauffer came to bat in the second inning for the Nittany Lions. With one swing of the bat, Stauffer put his team up 1-0 with a home run to get things going on the right path for DuBois. The energy pulsed through the dugout, and the bats ensued mayhem on Westminster. Tyler Yough would come up in the same inning and smash a three-run shot over the wall to give DuBois a 4-0 lead going into the third inning.
Another scoreless inning would happen in the third, as Boland would keep the Titans scoreless until the fourth. They would score two runs in the fourth inning before Braden Blair would come in to finish out the inning in relief. Boland would allow only two hits, and struck out two.
The fifth inning saw a familiar action as Stauffer would step to the plate and hit his second home run of the night. The onslaught wouldn't stop until the game was over. 
Boland would get the win for the Lions, and Stauffer would go 3-4 from the plate with three RBI's. Shortstop Colby Bodtorf would go 4-5 from the plate with three RBI's and a double. Casey Serine would also knock a double in the game with his 1-1 plate appearance on the evening. 
Blair would strike out two batters in one inning of work, and relievers Connor Cherry, Broc Weigle, and Cole Knable would each strike out one batter each in their work from the pen.
DuBois will be back in action on Wednesday, March 16, as they host Point Park University.