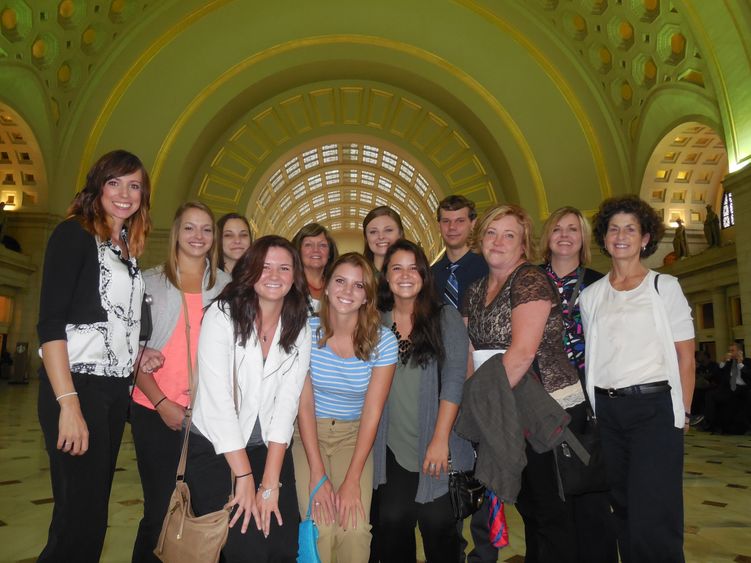 A total of 10 Occupational Therapy Assistant (OTA) students from Penn State DuBois, as well as two of their faculty members from the OTA program attended the American Occupational Therapy Association's (AOTA) 2016 Hill Day in Washington, D.C., on Sept. 19. More than 650 politically active occupational therapy practitioners and occupational therapy students from across the United States descended on Capitol Hill to make their voices heard during the profession's annual advocacy event.
Energized by record setting participation levels, practitioners from across the country highlighted the profession's most pressing legislative priorities, including educating Congress on the role of occupational therapy and requesting consideration for supporting legislation that impacts occupational therapy practice and the access to rehabilitation services by clients.
"After attending the event, I realize how much legislation affects the profession of occupational therapy and access to health care services," stated Cathy Provost, sophomore OTA student from Clearfield. "This was a great opportunity for OTA students to apply the skills and knowledge learned on campus as it relates to explaining what occupational therapy is and then advocating for legislation and services to advance the profession and support client care," remarked Instructor in Occupational Therapy Amy Fatula. "This also allowed students to interact with clinicians, students, and profession leaders from across the country."
Penn State DuBois students and faculty had the opportunity to meet with congressional staff in the offices of Congressmen Shuster, Rothfus, Murphy, Thompson, and Perry and Senator Toomey. OTA students also had the opportunity to address the staff and relay the position of AOTA in regards to the legislation.
"I was able to explain occupational therapy services and concerns to a congressional assistant, and was confident in what I had learned on campus," stated sophomore OTA student Lauren DeCarli of St. Marys.
AOTA's Annual Hill Day sparked conversations about the Medicare therapy cap, the Medicare Home Health Flexibility Act, support for rehabilitation research at NIH, and the Lymphedema Treatment Act. Occupational therapy is a science-driven, evidence-based profession that enables people of all ages to live life to its fullest by helping them maximize performance, function, and participate in meaningful activities (occupations).
Founded in 1917, the AOTA represents the professional interests and concerns of more than 213,000 occupational therapists, assistants and students nationwide. The association educates the public and advances the profession of occupational therapy by providing resources, setting standards, including accreditation, and serving as an advocate to improve health care. Based in Bethesda, Maryland, AOTA's major programs and activities are directed toward promoting the professional development of its members and assuring consumer access to quality services so patients can maximize their individual potential. For more information, visit www.aota.org