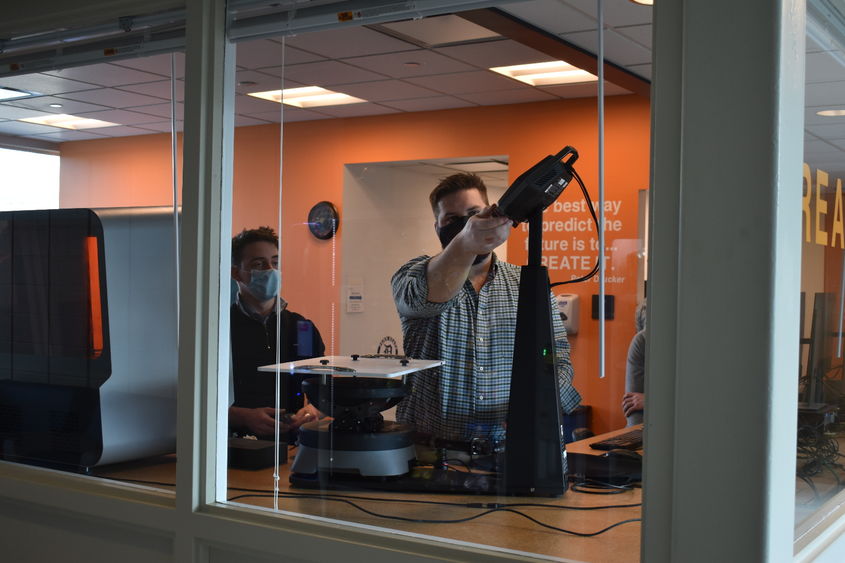 DuBOIS, Pa. — The North Central PA LaunchBox powered by Penn State DuBois continues to add tools to its state-of-the-art lineup of technology aimed at developing area businesses and industry. The latest piece of equipment available for use by industry partners and individuals, a turntable 3D scanner, just arrived in the on-campus Idea Lab in February.
"This machine scans parts that are sitting on a turntable, that can be manipulated so that the scanner can record all sides of a part, without the part being handled by an individual," said NCPA LaunchBox Director Brad Lashinsky, adding that the purchase of the $60,000 scanner was made possible by funds provided through the Appalachian Regional Commission's (ARC) POWER Initiative. "This takes human error out of the equation, making the scans more precise and creating industrial-grade scans. It's really exciting." 
Lashinsky said this new addition diversifies and expands upon technology already available at the Idea Lab, including 10 3D printers, existing 3D scanning hardware and software, plus a vinyl printer/cutter.
"We already have a hand-held scanner. It works very well for scanning large objects, but you have to be very consistent in using it with your hands. The new turntable scanner allows only smaller parts, but it's capable of creating highly precise scans," Lashinsky said, indicating the usefulness of this technology and what it can provide for industry partners where the greatest precision in manufacturing is required. "This is ideal for redesign and inspection. A manufacturing company can bring us a part from a machine that is worn, and we can scan it and examine it, and see where the part is weak and what we can do to strengthen it and improve performance, then recreate it on our 3D printers."
Damon Johnson is a 3D application engineer from the Branchburg, New Jersey-based Cimquest Inc., where the new scanner, a Solutionix C-500, was purchased. While providing training on the equipment at the Idea Lab, Johnson further explained its capabilities. He said,
"Capturing 3D data is essentially taking 3D pictures," he said. "Just like a screen has a resolution of pixels, scanners have a resolution of voxels, which are basically 3D pixels. This one is capable of capturing images of 0.015 millimeters, which is less than six one-thousandths of an inch. The accuracy is amazing."
Johnson explained that when this scanning technology is coupled with 3D printing technology like that available at the Idea Lab, the sky becomes the limit.
"They have DesignX reverse engineering software here being used with the printers," he said. "That is the gold standard in the industry for reverse engineering and the best way to scan and remake a part. You can have a part from machines from the 1960's that are no longer available. What do you do? Scan them, engineer them to be stronger, print them. You can now produce as many as you want."
Lashinsky has already helped individuals under circumstances similar to what Johnson describes. He is currently working to replace an obsolete part on a local individual's antique typewriter, and previously he brought a high-end sewing machine back to life when a lost part proved to be unavailable in the marketplace. With this new technology, he is sure those success stories will multiply. The Idea Lab is available to anyone in search of help developing a prototype or finding a solution to an issue like producing a part that is otherwise unavailable.
The reach of these resources also extends to those looking to enter a career in manufacturing, or looking to build their own skill set relevant to any number of business applications. Johnny Williams is an instructor for the "Rapid Prototyping" course offered through the LaunchBox and Penn State DuBois Continuing and Community Education.
"We see a lot of people come into class who learn how 3D scanning and printing can apply to a business that they now own, or to something they want to start up," Williams said. "We have people leave class with end-use parts they can use in their shop or business right now, no matter what industry they're in. This new scanner will better prepare those students because we can now show them both the manual scanning process with the handheld, and the automated process. The automation helps so much when many companies have staffing shortages, and it allows them to achieve more with fewer employees. Using multiple technologies also allows for more efficient work and more output."
For those interested in learning more about the technology involved in 3D scanning and printing, Penn State DuBois Continuing and Community Education offers the "Rapid Prototyping" class free of charge. Funded by a grant from the North Central Pennsylvania Regional Planning and Development Commission, classes are held from 4:30 to 7:30 p.m. on Mondays and Wednesdays. A four-class session runs in March 2022. To reserve a seat, contact Penn State DuBois Continuing and Community Education at 814-375-4715 or [email protected]. Visit dubois.psu.edu/rapid-prototyping for more information.
Lashinsky is available to assist businesses and individuals in finding ways to meet their unique needs. He can be reached at 814-375-4704 or [email protected].