Money given on behalf of the North Central PA LaunchBox and Penn State DuBois by the Appalachian Regional Commission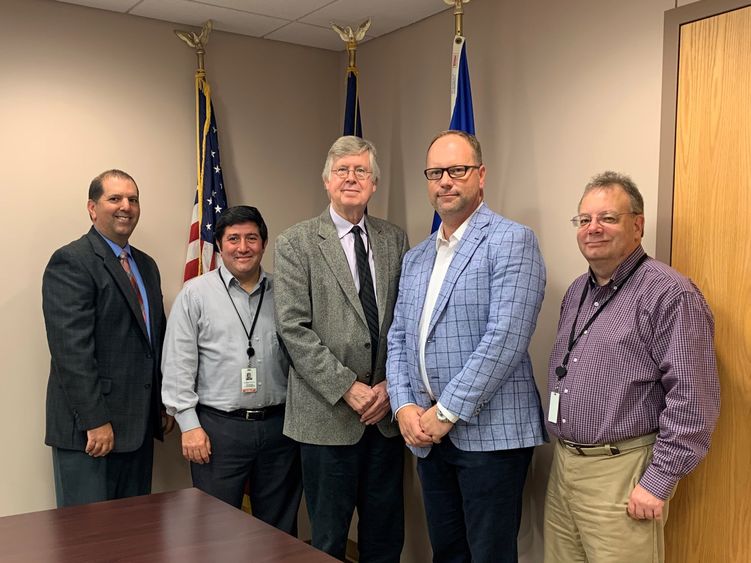 DUBOIS, Pa. — On Oct. 9, Clearfield County, on behalf of the North Central PA (NCPA) LaunchBox and Penn State DuBois, was awarded $725,850 by the Appalachian Regional Commission (ARC) to develop and strengthen the region's entrepreneurial ecosystem by attracting talented entrepreneurs and innovators, support manufacturing competitiveness with technical training opportunities, advance industry innovation through research and development initiatives, and serve as the convener to facilitate partnerships with and between business, education, industry and economic and community development stakeholders.
"Clearfield County is excited to be part of this regional effort to expand resources that all business owners, large and small, can utilize to strengthen their companies and workforce," said Clearfield County Commissioner John Sobel. "We believe that the NCPA LaunchBox will boost our economy, as well as our six neighboring counties, fill our downtown storefronts with entrepreneurs and help our large companies compete on a global level by driving innovation and collaboration."
Today's announcement is one of 54 investments totaling $44.4 million via ARC's POWER (Partnerships for Opportunity and Workforce and Economic Revitalization) Initiative, a congressionally funded opportunity targeting federal resources to help communities and regions that have been affected by job losses in coal mining, coal power plant operations, and coal-related supply chain industries due to the changing economics of America's energy production. Additional support for the NCPA LaunchBox is provided by Penn State and a large group of resource partners involved in services provided to business and industry in the north central region of Pennsylvania.
"Penn State President Eric Barron's commitment to entrepreneurship and innovation has made the Invent Penn State initiative an incredible resource for anyone looking to start, grow or improve their business," said Penn State DuBois Chancellor M. Scott McBride. "Penn State DuBois is one of 21 innovation hubs being developed by Penn State campuses across the state. This funding will help the North Central PA LaunchBox serve a diverse population and boost the region's economy."
The NCPA LaunchBox will be located in downtown DuBois and will host resource partners such as Clarion University Small Business Development Center, Northwest Pennsylvania Industrial Resource Center and Ben Franklin Technology Partners. Through Invent Penn State and the LaunchBox program, start-up businesses can receive expert legal, intellectual property and business advice at no cost.
"I congratulate Clearfield County and Penn State DuBois for being a FY 2019 POWER grantee and commend them on the leadership they have shown in their community," said ARC Federal Co-Chairman Tim Thomas. "POWER grants are playing a critical role in supporting coal-impacted communities in the Appalachian Region as they diversify economies, invest in growth-oriented infrastructure, train a next-generation workforce, and ingrain resiliency and hope into their local fabric. Projects like this help ensure a prosperous future for Appalachia."
One major focus of the program will be in the field of metal manufacturing. Penn State DuBois strives to be the leader in innovation and collaboration when it comes to developing service for the local manufacturing industry. The three main services available in our Innovation Collaborative will be a Makerspace, Research and Development Services and a Technical Training Center. These three services will help uphold the long, local tradition of our region's ability to practice excellent production routines, solve problems and develop a highly skilled workforce to support the local, national and global economy.
"The ARC was great to work with and there are so many people who have helped to make this grant award happen," said NCPA LaunchBox Director Brad Lashinsky. "Our federal and state legislators helped support this application from the beginning and Clearfield County devoted a lot of time from county Planning Director Jodi Brennan to write the grant and serve as the administrator as we move forward. Other organizations like our state Department of Community and Economic Development and the North Central Pennsylvania Regional Planning and Development Commission helped guide us in the process."
About the Appalachian Regional Commission, The Appalachian Regional Commission (www.arc.gov) is an economic development agency of the federal government and 13 state governments focusing on 420 counties across the Appalachian Region. ARC's mission is to innovate, partner, and invest to build community capacity and strengthen economic growth in Appalachia to help the Region achieve socioeconomic parity with the nation.