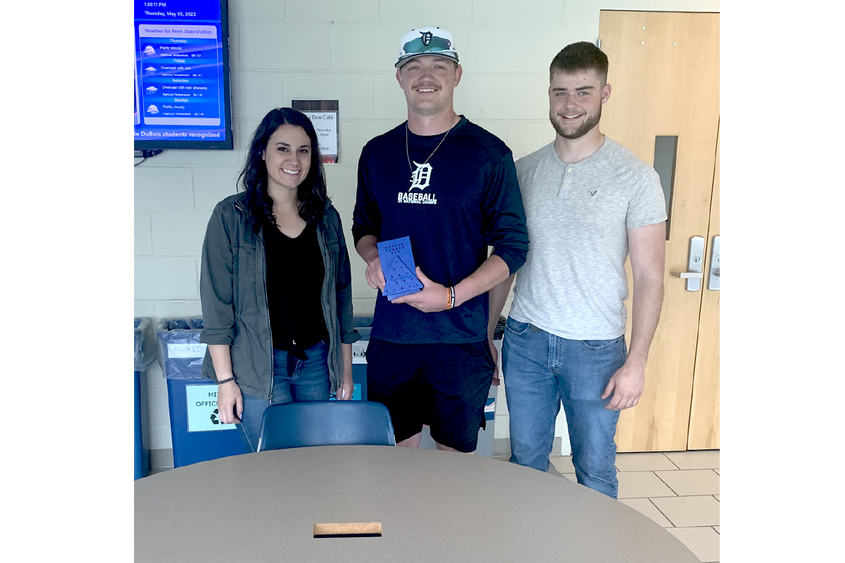 DUBOIS, Pa. — The winners of the North Central PA LaunchBox student table-top challenge were announced for their innovative and creative designs. Students teamed up, using the Idea Lab, to design, innovate, and create solutions for the task.
Innovation is all about finding solutions and this tabletop challenge was no different. Located in the Swift building on the Penn State DuBois campus is a student gathering area containing round tables with openings in them, previously used for cabling.
The North Central PA LaunchBox powered by Penn State DuBois created a challenge for students to design uses and inserts for these spaces using the Idea Lab, located next to the student area. The Idea Lab contains 3D printers, 3D scanners, CAD software and a full commercial vinyl-print system.
Each team consisted of three students and the rules were simple. Use the resources in the Idea Lab to imagine, design and create products to be used in each of the tables.
Cory Lehman, Anna Raffeinner, and Dylan Treaster teamed up to compete and ultimately win the competition. This team of students recognized that the location where the tables sit was a study area, but also a socialization area on campus. They chose to design mini-board games, such as tic-tac-toe, to be inserted into the space.
They worked with North Central PA LaunchBox director, Brad Lashinsky, and Idea Lab instructor, Johnny Williams to bring their designs to life. In the fall, students will be able to play games designed by Lehman, Raffeinner and Treaster. Each student on the team received a $200 Amazon gift card as an award.