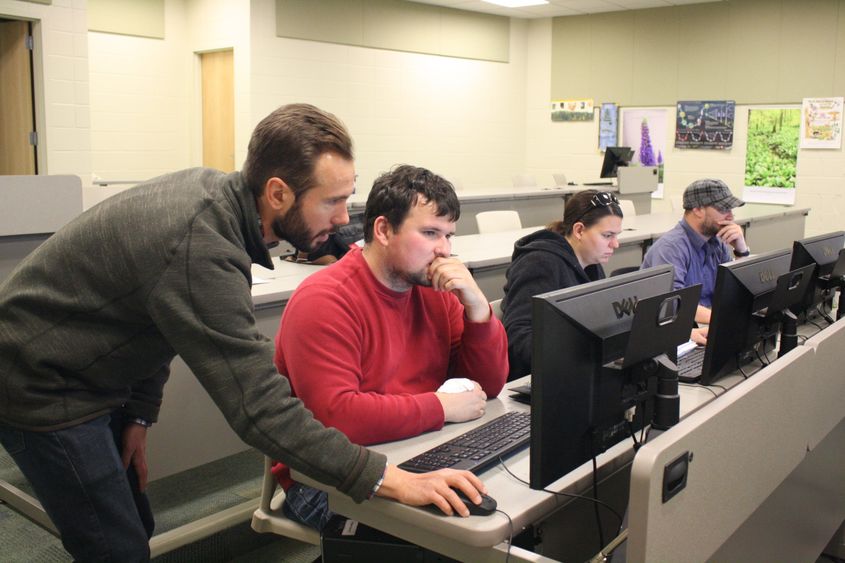 DUBOIS, Pa. — A degree in Earth science can prepare individuals for careers in a variety of fields, including environmental conservation, energy resources, wildlife conservation, environmental consulting and more. But students in the Earth science degree program at Penn State are getting a leg up on the competition to land jobs by gaining computer programming language experience as part of their curriculum.
Specifically, the students are learning to use a computer programming language called R. R is popular with statisticians and scientists, and it is used to create models that can predict outcomes and quantify data once a set of data has been entered.
Patrick Applegate, an instructor in Earth sciences, is teaching students how to use R in his hydrology class. He explains, "R is a key tool in my classroom because we take equations that describe how groundwater flows and use R to turn those equations into graphs. These graphs help students gain a more intuitive feel for the material we're covering. Most people can remember pictures and graphs more easily than they can equations. R makes it easy to turn equations into pictures."
Applegate said R can also make processing this information easier, and provide more accurate results.
"Hydrogeology is the science of taking water out of the ground," he said. "It has to do with estimating how much water can be obtained from different geologic layers and protecting groundwater resources from contamination. Hydrogeology is a quantitative science; there are equations that describe how groundwater moves. R makes it easy to do some calculations that would be very difficult to do with pencil and paper. One equation used to be solved by matching curves on two pieces of graph paper, which is hard to do in a precise way. In R, though, we can do this matching easily."
The end result of this work in hydrology can benefit homeowners looking to drill wells, local governments exploring options for municipal water supplies, and industries that utilize groundwater. Earth science professionals do studies like this frequently, and Applegate said those working professionals also use R to quantify their data. The experience his students are getting in the classroom with R will better prepare them to enter such careers.
"I think my students benefit from learning to use R in that they learn the class material better and because it improves their job prospects," Applegate said. "Many companies out in the real world use R, meaning that our Earth science students here at Penn State DuBois will have a wider pool of potential employers to apply to when they're done. Also, most people who get an Earth science degree don't know how to write computer programs. So, our Earth sciences graduates will stand out from other people with the same degree from other institutions."
Senior Howard Hartzfeld, of DuBois, completed an internship with the U.S. Department of Agriculture this year and has a job waiting for him there after graduation. He said having experience with R helped to make that possible.
"My focus for that internship was soil and water, which this work encompasses. This is right on with the work I did there," Hartzfeld said.
Student James Greenawalt, of Clarion, appreciates the chance to diversify his education by delving into areas he was otherwise unfamiliar with. "I'm not computer savvy," he said, "so this is really beneficial."
Applegate and University Park colleague Klaus Keller authored a book on the use of R as it relates to geosciences, statistics, ethics and economics. The book was recently published and is available for free at https://leanpub.com/raes.