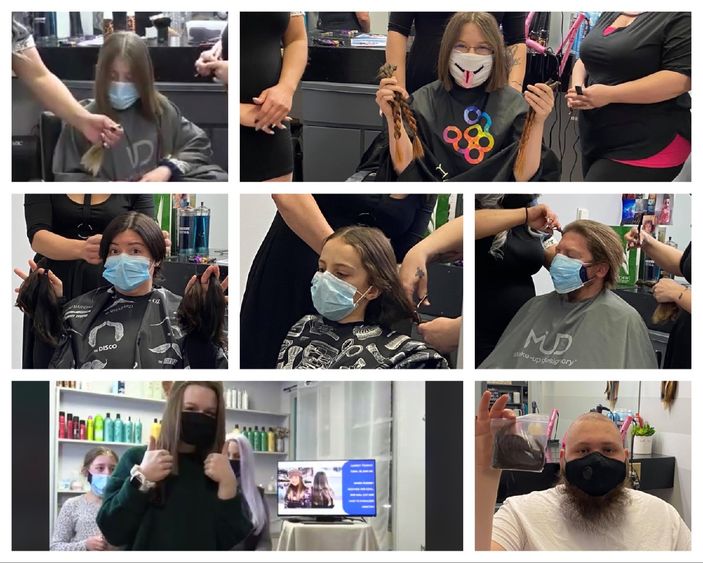 DuBOIS, Pa. — In a challenging time filled with virtual events, the Penn State DuBois Hair Auction to benefit THON still ended the night with $7,615 raised to support children battling cancer. This puts the overall campus goal to support THON 2021 at $19,441.77.
Each year, student activists at Penn State DuBois work tirelessly to support the efforts of THON, Penn State's Dance Marathon, that raises millions of dollars toward the fight against pediatric cancer. The Hair Auction is the biggest fundraiser of every THON season.
This year, volunteers who put themselves under the sheers for the cause were Alianna Raffeinner, a 10-year-old from Kersey, Pennsylvania; Heather Witherow, former Penn State DuBois Student Government Association president; Megan McCain, Penn State DuBois student; Steve Harmic, Penn State DuBois strategic communications officer; Harmic's daughter, 9-year-old Audrey Harmic; Jessica Mondi, the Penn State DuBois marketing strategist; and Penn State DuBois student Michael Morri. All got their cuts at The Beauty Bar in DuBois.
Watch the full hair auction here.
"There's no way that during the pandemic I thought we could bring in donations like this," said Director of Student Affairs Rebecca Pennington, who oversees the THON fundraising activities at Penn State DuBois. "I was nervous going into the event, but so pleasantly surprised at the outcome."
On stepping up to support this cause, hair donor Megan McCain said, "I was inspired by my experience at THON last year. It completely changed my life to meet such loving, kind, strong children and families that go through so much every day and still have smiles on their faces. I love doing anything I can to help my PSUD family because they inspire me every day."
There is still time to donate to THON through Penn State DuBois. To do so, visit THON's Donor Drive at https://tinyurl.com/psudthon
The largest student-run philanthropy in the world, engaging more than 15,000 students across Pennsylvania, THON has raised over $180 million for Four Diamonds since its inception in 1973. The event's sole beneficiary, and a leader in the fight against pediatric cancer, Four Diamonds fills in the funding gaps that insurance leaves for the patients it serves, enabling families to focus on caring for their child. Because of large donors like THON, Penn State Hershey Hospital recruits world-class talent to continue innovative research, and to maintain and expand the state-of-the-art Children's Hospital.
Four Penn State DuBois students will represent the campus as the official THON Dancers at this year's Penn State Dance Marathon. Charis Martell, Brianna Shaw, Sarah Voris and Haley Rummel are this year's official Penn State DuBois THON dancers. Though held virtually this year, these individuals are still tasked with staying on their feet for 46 hours to raise money for support of the fight against childhood cancer. You can watch the livestream any time from 6 p.m. Feb. 19, until 4 p.m. Feb. 21, at https://thon.org/livestream.