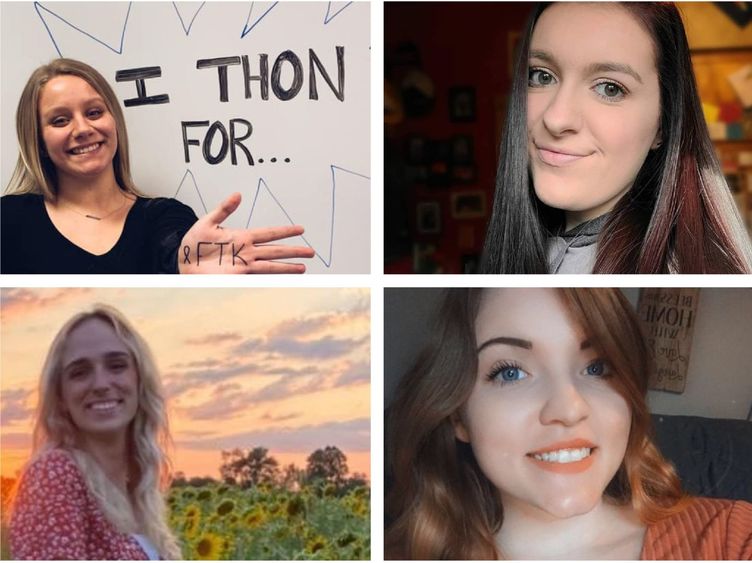 Four Penn State DuBois students will represent the campus as the official THON Dancers at this year's Penn State Dance Marathon. Charis Martell, Brianna Shaw, Sarah Voris, and Haley Rummel are this year's official Penn State DuBois THON dancers, and will be celebrated through a virtual send-off event at 6:30 p.m. on Wednesday, Feb. 10, via Zoom at https://psu.zoom.us/j/99160171680
Though held virtually this year, these individuals are still tasked with staying on their feet for 46 hours to raise money for support of the fight against childhood cancer. Due to COVID-19, THON 2021 will take place virtually for the safety of all participants. You can watch the livestream any time from 6 p.m. Feb. 19, until 4 p.m. Feb. 21, at https://thon.org/livestream
The largest student-run philanthropy in the world, engaging more than 15,000 students across Pennsylvania, THON has raised over $180 million for the Four Diamonds Fund since its inception in 1973. The event's sole beneficiary, and a leader in the fight against pediatric cancer, the Four Diamonds Fund fills in the funding gaps that insurance leaves for the patients it serves, enabling families to focus on caring for their child. Because of large donors like THON, Penn State Hershey Hospital recruits world-class talent to continue innovative research, and to maintain and expand the state-of-the-art Children's Hospital.
Martell is a junior from Brockway, Pennsylvania, majoring in wildlife and fisheries science; Shaw is a sophomore and special education major from Clearfield, Pennsylvania; Rummel is a junior from Brockway, Pennsylvania, majoring in human development and family studies; and Voris, of Punxsutawney, Pennsylvania, is an administration of justice major in her senior year.
Everyone is invited to log on at 6:30 p.m. on Wednesday, Feb. 10, via Zoom at https://psu.zoom.us/j/99160171680 to watch the live dancer send-off as well as a hair auction that seeks to raise money for the Penn State DuBois THON Goal.
Alianna Raffeinner, a 10 year old from Kersey, Pennsylvania, is asking $200 an inch up to 10 inches of hair. Her full goal would total $2,000.
Megan McCain, Penn State DuBois student, seeks $200 per inch, up to four inches, totaling $800.
Steve Harmic, Penn State DuBois srategic communications officer, is looking for $1,000 to get a shorter hair cut. If he reaches $1,500, as some supporters have suggested, he will keep his hair growing another year in order to have enough length to donate to an organization that makes wigs for children battling cancer.
Steve's daughter, 9-year-old Audrey Harmic has placed a reserve of $1,000 to cut her long hair to shoulder length.
Jess Mondi, the Penn State DuBois marketing strategist, will keep things interesting, allowing individuals to vote on the cut they want her to get on the night of the event with a reserve of $2,000.
Michael Morri, student, will also keep the audience engaged with his plan to accept $7 for the first inch he sheds, with the price doubling for each inch up to a shaved head, which he hopes results in $3,577 raised for THON.
Donations for the hair auction can be made via THON's Donor Drive at https://tinyurl.com/psudthon