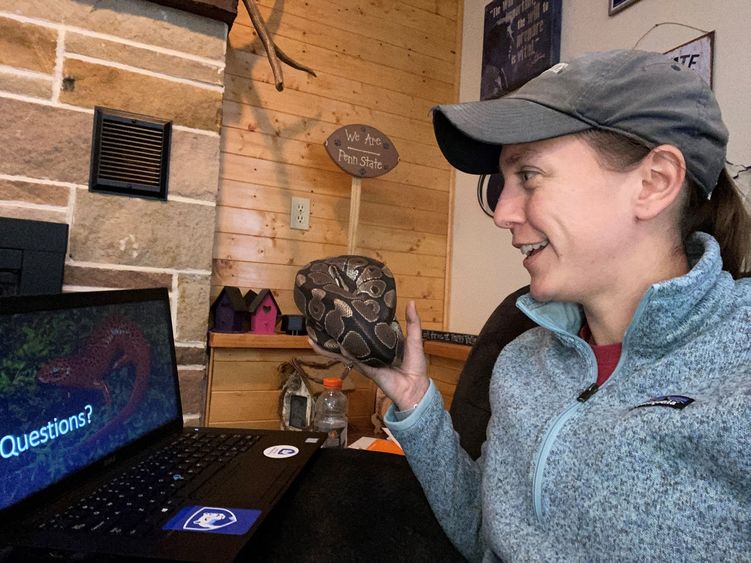 Penn State DuBois Assistant Teaching Professor of Wildlife Technology Emily Thomas hasn't just found silver linings during the pandemic, she has also provided them.
Thomas recently made presentations on wildlife species, via Zoom, to first- and second-graders at Shelter Rock Elementary School on Long Island, New York. She held two presentations, one focusing on bald eagles, and another featuring reptiles and amphibians.
A former student of the Wildlife Technology program virtually introduced Thomas to Shelter Rock teacher Holly Weinstein, who had a plan to use technology to close the distance between her students and guest speakers who can contribute to their educational experience. Thomas shared the opportunity with some high-profile guests.
Weinstein explained, "I reached out to Emily because I started a program called "Class Speakers" during quarantine. I found that having guest speakers come to our class Zooms was pretty much the only way to keep my second graders engaged in learning. So many experts took the time to speak with us, including the New York state paleontologist when we were learning about dinosaurs, the stage manager of the Broadway show "The Lion King" when were learned about New York City, an entomologist when we were learning about insects, and Boomer Esiason when we were learning about sports."
Thomas said she loves to share her passion for the outdoors, and was happy to find a bright spot during the pandemic. "It's really nice to have this opportunity to talk with those students, and it might not have ever happened if we didn't have to change the way we do things during the pandemic, "Thomas said. "It's great to be able to connect with students who are miles away and expose them to different wildlife species."
Thomas used her own pet ball python, Zeus, for her presentation on reptiles and amphibians, and was pleased with the reaction from the students upon seeing Zeus, as well as the rest of the presentation. She said, "I love the enthusiasm. The kids are so engaged. The teachers are really doing a great job."
"I have to say, I've had many class speakers at this point, and Emily was one of the best," Weinstein shared. "She came fully prepared with an amazing presentation. She showed incredible pictures and included videos as well. The students were amazed by what they learned. Emily was teaching them as if she's taught elementary her whole career. She gave them amazing details at their level, which is pretty incredible for a college professor to pull off. Her presentation was truly outstanding, and so badly needed during this time. Although we are back in school full time, we are fully masked and separated with plastic dividers. School does not look or feel right at all. So, when Emily came on, it was a much-needed light in our day. My students will never see a picture, video, or a bald eagle in the sky without thinking back to Emily's presentation."
Thomas' presentation also serves as an example of just how successful both educators and students can be while using remote learning methods.
Weinstein said, "Before COVID I would read books or show videos about different topics. I soon realized that all the technology we're using can open up the classroom walls and real experts can now enter the room. In my opinion, this is the silver lining of COVID. The presentation with Emily Thomas was the perfect example of how we as a community of educators can come together to enrich the lives of our students, no matter the age or location. Magic truly can happen remotely-all you need is a computer and a Zoom code."
Thomas earned an associate of science degree in wildlife technology at Penn State DuBois in 2007. She also earned a bachelor of science degree in wildlife and fisheries science, wildlife option, in 2009, and a master of science in wildlife and fisheries science in 2011 – all at Penn State. She began teaching at Penn State DuBois in 2012.