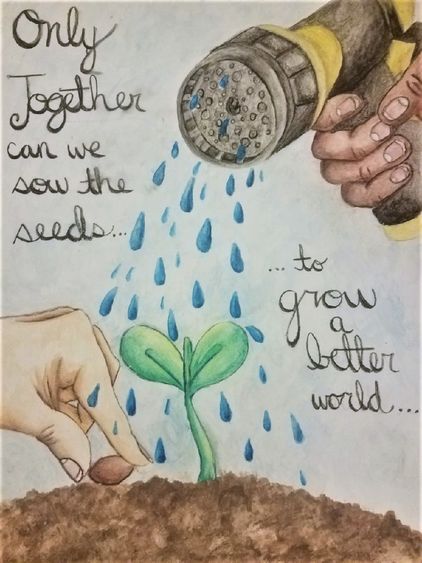 Heather Witherow has not allowed current events to dampen her hopes for making positive change in the world. In fact, recent events have inspired the junior secondary education major from Reynoldsville, Pennsylvania, to make an even stronger statement against hate and inequality. As the former Student Government Association president at Penn State DuBois, and current Penn State Harrisburg student, Witherow has spearheaded a peaceful movement aimed at promoting equality that she has named Project Unity. The online art gallery invites submissions from the entire Penn State community and beyond.
"Project Unity is a university-wide art project, with a mission to bring awareness to societal injustices and show how we, as a community, can come together to change the world for the better: all through the expressive medium of art," Witherow explained. "The project hopes to engage students, faculty, staff, alumni, friends, family, and others by encouraging participation in the project. Regardless of skill level, Project Unity wants to see people share their culture, their experiences related to social or racial injustice, their thoughts on achieving unity, and much more through all forms of art. This can be literature, painting, drawing, ceramics, photography, or any other medium of art."
The virtual gallery has already been established at https://sites.psu.edu/projectunity/ where submissions can be viewed. Those interested in participating can also visit the site to find inspiration, information on themes, as well as the link to the submission form for artwork. Witherow explained, "Participants can choose one of three themes to inspire their artwork: 'We Stand in Unity'; 'Together We Walk' and 'The World Today'. After completing the piece, participants can take a picture of their submission and upload it through the submission form, located on the "About Project Unity" page of the website. Submissions for the project will be open all semester."
Witherow said her future plans for the project include the creation of murals and posters using the submitted artwork that can be physically displayed on Penn State campuses. She also has ambition to launch a fundraising project to benefit scholarships that are focused on diversity and inclusion.
In launching the project, Witherow said she collaborated with other Penn State organizations including the University Park Undergraduate Association, the Council of Commonwealth Student Governments, the Black Caucus, the Asian Pacific Islander Desi American Caucus, the Graduate and Professional Student Association, and the International Student Council.
Additionally, Witherow went back to her Penn State roots and enlisted some help from Penn State DuBois' Director of Student Affairs Rebecca Pennington and Student Engagement Coordinator Brittany Martin. She relied on their experience to help guide her in taking on a mission of this magnitude. Witherow said, "Brittany and Rebecca have been super helpful guiding me to where I needed to go and giving advice."
Heather Witherow encourages anyone who has an interest in participating in Project Unity, or anyone who would like more information, to contact her at [email protected]