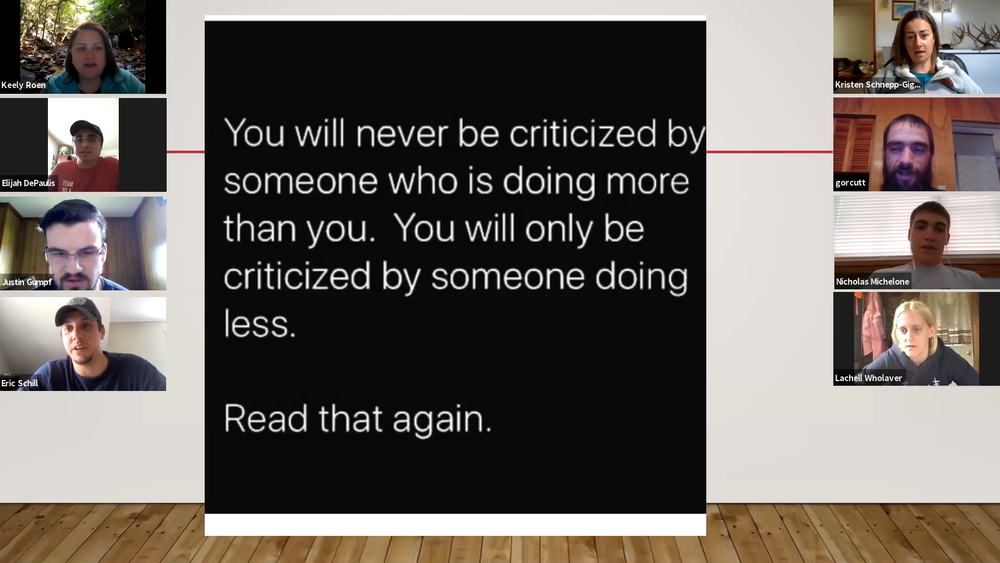 Students in the Penn State DuBois Wildlife Technology degree program are used to being remote; but perhaps not in the way that the current COVID-19 pandemic has made learning necessary. While these future conservation professionals are accustomed to life in remote outdoor areas, indoor remote learning is something they now have mastered thanks to dedicated faculty.
Recently, Assistant Teaching Professor of Wildlife Technology Keely Roen took advantage of the current learning landscape to connect her students with a member of the Pennsylvania Game Commission's Board of Commissioners. The students joined in a Zoom meeting with Kristen Schnepp-Giger, a wildlife biologist with the National Wild Turkey Federation (NWTF), who was recently appointed by Pennsylvania Governor Tom Wolf to the Board of Commissioners. One of only eight commissioners in the state, Schnepp-Giger is a part of making all regulatory decisions for the Game Commission, including those about about bag limits, seasons, and animal status. She is also a graduate of the Penn State DuBois Wildlife Technology Program, having earned her associate degree at DuBois in 2004-05, before moving on to complete a bachelor's degree in wildlife and fisheries science at Penn State Behrend.
"This is the first time I taught Forestry 242 so, as a Wildlife Technology alum, an NWTF biologist, and now a commissioner, it made perfect sense to have Commissioner Schnepp-Giger speak to a class that focuses on policy, legislation, and communication in natural resources," Roen said. "Going back and forth between our crazy schedules and then with COVID adding in an additional challenge, we were finally able to schedule her via Zoom. I really appreciated her flexibility during this difficult time."
Schnepp-Giger spoke to students about the science and research that goes into making decisions about the management of Pennsylvania's wildlife species, including white-tailed deer, elk, turkey, and more. Graduates of the Penn State DuBois Wildlife Technology program aspire to work in fields of conservation where this knowledge will serve them daily.
On agreeing to meet with the students, Schnepp-Giger said, "You have to build each other up. I got the bulk of my education in the Penn State DuBois program because of people who were willing to do this for me while I was there. So, I want to pay it forward to the next generation." She continued, "The quality of education you get at these small campuses can't be compared. There's individual attention and an intimate setting."
The experience was well appreciated by aspiring conservation professionals. Student Garrett Orcutt said of the meeting with Schnepp-Giger, "She is the first commissioner on the board with a wildlife biology background. Being able to talk to someone of that stature in a comfortable environment to speak the way you would speak with a friend is an invaluable wealth of knowledge. Furthermore, I didn't feel the least bit intimidated to speak freely."
The exercise Roen planned for this lesson, however, only culminated in the first-hand discussion via Zoom. Prior to that, she worked with Schnepp-Giger to really run her students through their paces, showing them insight into what life as an actual high-profile game manager might be like. Roen explained, "Prior to her visit, she sent me a huge batch of real questions sent to her as a commissioner. They were so interesting that I decided to design an activity where students would have to analyze them and compose their own responses as a commissioner. I think it was helpful for them to see how they had to think about being professional, trying to educate the public, while staying true to your mission."
Finding the balance between public education and public satisfaction was a big topic of discussion during the remote interaction. Schnepp-Giger told students that concurrent deer seasons, management of Chronic Wasting Disease, and other areas remain hot-button issues. She assured biologists are doing their best to rely on scientific data each day to provide the best possible management for wildlife species, while preserving Pennsylvania's hunting heritage.
"You'll always have others telling you how to better do your job," Schnepp-Giger said. "Just remember that you will never be criticized by someone who is doing more than you. You will only be criticized by someone doing less."
Roen added that this experience has been a testament to the resilience of her students, saying, "I have to give my students so much credit for going with the flow and being flexible with new material and how that material was delivered. I've seen students trying to Zoom with flaky internet connections from their childhood bedrooms, or with parents or even their own children in the background. However, due dates have been extended and assignments have been modified and they've made do in surprising ways."
Students in the Wildlife Technology Program at Penn State DuBois go on to help manage wildlife species, habitat, and work in fields of conservation of forests, waterways, and more. A virtual visitation event featuring more information on this program will be held at 12:30 p.m. on Wednesday, April 29. Those interest can register here.