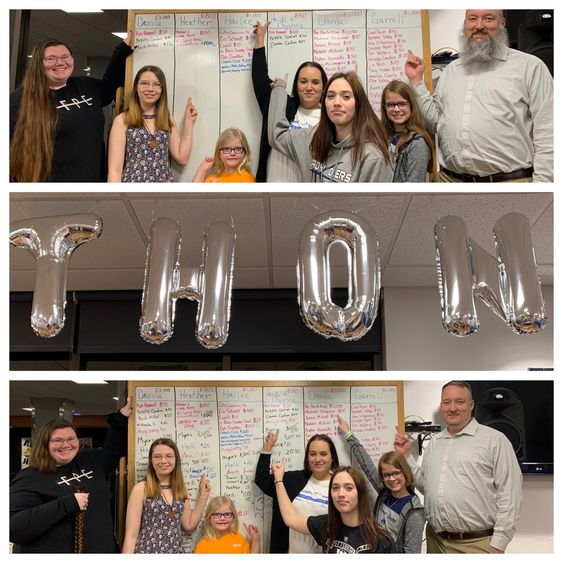 DUBOIS, Pa. — The Annual THON Dancer Sendoff Dinner and Hair Auction is the biggest fund-raising event for Penn State DuBois for THON each year, and it did not disappoint in 2020. At the end of the night, total funds raised this season for THON by Penn State DuBois students reached $32,082 to support the fight against childhood cancer, breaking the previous $30,000 campus record. With donations accepted through Feb. 23, that number is still climbing.
The DuBois total will contribute to the overall university-wide THON total, benefiting Four-Diamonds, directly impacting families dealing with pediatric cancer.
Held in the Student Union on Feb. 13, the Dancer Sendoff Dinner and Hair Auction alone brought in $8,825 toward the DuBois total, including proceeds from a basket raffle. The hair auction provides those in the audience the chance to place bids in order to raise enough money for the volunteers to get their hair cut. Each volunteer has set a minimum amount that has to be reached for them to lose their locks. Volunteering to get their hair cut for the cause this year were Hailee Brubaker, Emma Roy, Deanna Condron, Heather Witherow, Heidi Miller, Chyenne Knisely and Garrett Roen.
Each volunteer had their own personal reasons for contributing to the cause.
Emma Roy is a youth advocate. The 10-year old brought in the highest amount of the night at $3,020 by cutting 12 inches of hair that she plans to donate to Wigs for Kids.
"My cousin had cancer in the past and lots of people I know have had cancer," Emma said. "So, I wanted to cut my hair in honor of them."
Roy's mother, Beth Ann Roy, added, "I'm very proud. She saw her friend do this last year, so she decided she was going to do it, too and started growing her hair out."
Hailee Brubaker is another young supporter. She is the seven-year-old daughter of Marcie Brubaker, who works in the Penn State DuBois Student Affairs Office. Hailee donated five inches of hair, earning $1,200.
She said, "My sister did this last year, so I wanted to do it, too." Brubaker's mom added, "I'm very proud of these girls. THON has grown near and dear to my heart since I started working here, and I'm happy they share the same enthusiasm."
Deanna Condron, who raised $1,000 by donating 21 inches of hair said, "A couple of years ago a friend told me about THON and I have gone there now for three years. This year I can't be there, so I thought I would support the cause this year by getting my hair cut. I'll be there in spirit."
Heather Witherow, who raised $1,200, has a unique plan to support THON and other causes with her hair. She sought and met her $1,200 reserve in order to keep her hair, not to cut it.
"Then, I'll keep growing it and come back next year and actually cut it at the auction," she said. "By then I'll have enough to donate my hair to Wigs for Kids. Anything I can do to support this cause, I'll do it." Witherow is also a THON dancer representing DuBois this year.
Heidi Miller is a Penn State DuBois alumna and past campus THON Dancer, who is still passionate about THON's mission. She and her daughter, Chyenne Knisely, an 11th grader at DuBois Area High School, participated in the hair auction together. Each got undercuts, and plan to carve THON logos where they were clipped, meeting their $500 goal.
"I still come back every year and help raise money, but I've never done this," Miller said. "It's a really great cause, and we want to do anything we can to help." Knisely demonstrated how she is carrying on her mother's tradition saying, "I go to THON every year, so I wanted to do something different and to really benefit it."
Garrett Roen works at Penn State DuBois as the campus registrar and volunteered to shave his beard, not cut his hair. His chest-length beard brought in $1,500 for the cause.
"I've donated money and even volunteered at THON multiple times over the last decade, this seemed like a good way to get friends of mine who might not have known about THON to learn about it and maybe donate a bit of money," Roen said. "I can grow my beard back if I wanted it, but every dollar donated to THON could potentially mean extra time a family has with their child and that's a no-brainer."
The evening also featured a dinner honoring this year's THON Dancers with an official send-off. Those students representing Penn State DuBois at THON this year are Taylor Butler of Curwensville, Sarah Voris of Punxsutawney, Lydia Holt of Brockway, and Heather Witherow of Reynoldsville. They'll attempt to stay on their feet for 46 consecutive hours at the Penn State Dance Marathon scheduled for Feb. 21-23 at the Bryce Jordan Center at University Park.
The largest student-run philanthropy in the world, engaging more than 15,000 students across Pennsylvania, THON has raised $168 million for Four Diamonds since its inception in 1977. The event's sole beneficiary, and a leader in the fight against pediatric cancer, Four Diamonds helps fill in the funding gaps that insurance leaves for the patients it serves, enabling families to focus on caring for their child. Because of large donors like THON, Penn State Hershey Hospital recruits world-class talent to continue innovative research, and to maintain and expand the state-of-the-art Children's Hospital.
In addition to the sendoff dinner and hair auction, Penn State DuBois students also raise funds for the cause by holding concerts, bingo nights, blood drives, and other events.
There's still time to support Penn State DuBois for THON, through THON weekend, February 21-23.