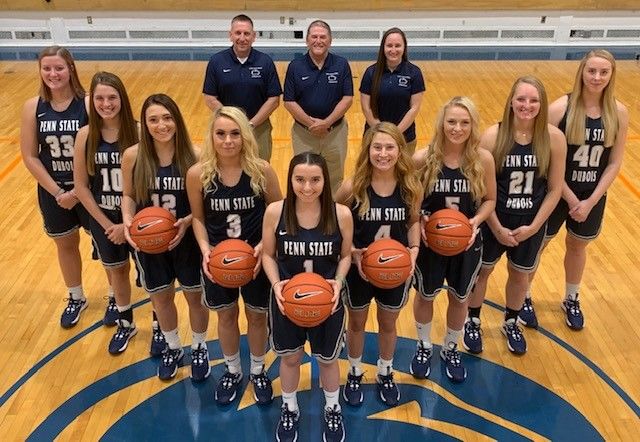 DUBOIS, Pa. — The Penn State DuBois women's basketball team, coming off a 14-9 season, enters the 2019-20 schedule with high expectations. The return of several key players from last year's successful run are joined by an influx of talented newcomers to fuel these expectations.
Leading the charge of the Lady Lions this year will be four returning players, starting with senior point guard Maddie Sprankle (Johnstown Christian/Johnstown, Pennsylvania). Another guard spot will be filled by junior Cierra O'Shell (Glendale/Coalport, Pennsylvania). Providing depth from the forward position will be Morgan Silvis (Forest Area/Tionesta, Pennsylvania) and sophomore forward Leah Lindemuth (Brockway/Brockway, Pennsylvania).
The incoming guards include sophomore Lexey Shick (Union/Rimersburg, Pennsylvania). She will share time with Sprankle directing the offense from the point guard position. She will be joined by sophomore guard Skylar Ceprish (West Branch/Allport, Pennsylvania).
The frontcourt will welcome new faces beginning with freshmen Malliah Schreck (Cranberry/Emlenton, Pennsylvania) and Sydney Shaw (Tyrone/Warriors Mark, Pennsylvania). They will be joined down low by junior Ally Easton (Coudersport/Coudersport, Pennsylvania).
Despite losing five out of his top six scorers from last season, 13-year head coach Pat Lewis has been happy with early-season workouts.
"We had a very respectable showing in our scrimmage against Mansfield University (NCAA DII) this week, where we showed good quickness and an unselfish style of play," said Lewis. He added, "We have advanced to the PSUAC two out of the past three seasons and would like to do so once again. We believe that we have the strength and depth this year to advance deeper into the playoffs and hopefully secure a national bid in the USCAA."
The Penn State DuBois women open their season on Friday, Nov. 1, in the Lorain, Ohio, Tip-Off Tournament as they face off against Wayne County Community College from Detroit, Michigan. The Lady Lions open their home schedule against Pitt-Titusville at 6 p.m. on Tuesday, Nov. 5.