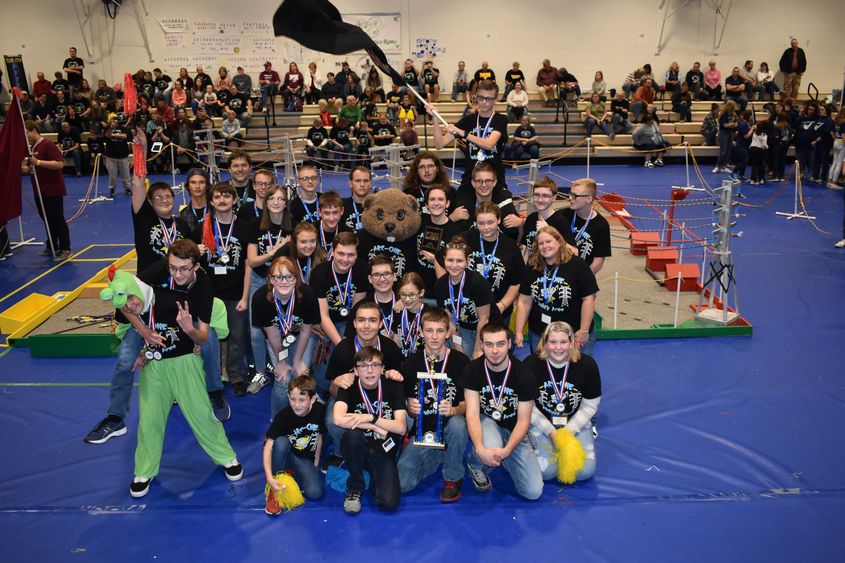 DUBOIS, Pa. – DuBois Area High School has taken the top spot in the BEST (Boosting Engineering, Science and Technology) Robotics Contest at Penn State DuBois for the fourth year in a row. Taking first place in the contest is based on the team's combined total score in robotics, their engineering design notebook, marketing plan, and other areas of the competition. This gives DuBois a bid to advance to the regional competition planned for Dec. 7 and 8, in Denver, Colorado.
First place in the individual robotics portion went to Mentor Christian School, from Mentor, Ohio. Taking first in robotics also gets the high school a bid to the regionals in Colorado.
BEST took place on Oct. 19, in the campus gymnasium. This year's theme was titled "Off the Grid" and was based on a scenario where a natural disaster has taken out the supply of electricity to an area. In the simulation students were required to use their robots to repair the electrical grid.
BEST provides all necessary parts and equipment for teams to build a robot that they can use to run a course and perform specified tasks. The robot must be built within a six-week time frame. On the days of the contest, all teams run the course, competing for the best times and course completion. Through participation in this project-based program, students learn to analyze and solve problems utilizing the Engineering Design Process, which helps them develop technological literacy skills. The goal is to better prepare these students for further education and careers in STEM (Science, Technology, Engineering and Mathematics) fields.
The learning opportunities with BEST don't stop at STEM fields. Teams also compete and receive awards for other areas of the project, which include marketing, exhibition, an engineering notebook, sportsmanship, team spirit, and more.
"The greatest thing about BEST Robotics is how it brings together people with different skills and teaches them that each person has talents — whether its graphic arts, programming, marketing, building, or leadership skills — which are all equally important to the success of an organization," said Stephen Feldbauer, instructor in the Penn State DuBois engineering programs, and coordinator for BEST at Penn State DuBois.
Schools participating in Penn State DuBois BEST this year were Altoona High School; Bethlehem Center High School; Cranberry Area School District; DuBois Area High School; Mentor Christian School, from Mentor, Ohio; Oil City School District; The Tatnall School, from Wilmington, Delaware; Redbank Valley High School; and Redeemer Lutheran School.
Other awards included
Best Notebook: Cranberry Area
Marketing: Cranberry Area
Spirit and Sportsmanship: DuBois
Team Exhibit and Interview: DuBois
Best T-Shirt: Cranberry Area
Best Team Flag: Cranberry Area
Founders Award: DuBois
Most Robust Robot: DuBois
BEST Executive Director Michael Steiner attended Game Day at Penn State DuBois, as he did for the kick-off event in September. Steiner oversees the entire nation-wide organization, based out of Pittsburgh, including 47 hubs, more than 900 schools, and nearly 30,000 students participating each year. He praised the DuBois hub for its organization, talented students and exciting atmosphere.
"The reason I'm here is that I see in every one of you an amazing scientist or engineer," Steiner told the students. "I believe in you, and I want to see you go forward and succeed."
BEST at Penn State DuBois is made possible by Platinum Sponsor Miller Fabrication Solutions, Silver Sponsors Atlas Pressed Metals and Comtec Manufacturing, Inc, and Bronze Sponsor Eastern Sintered Alloys, Inc.