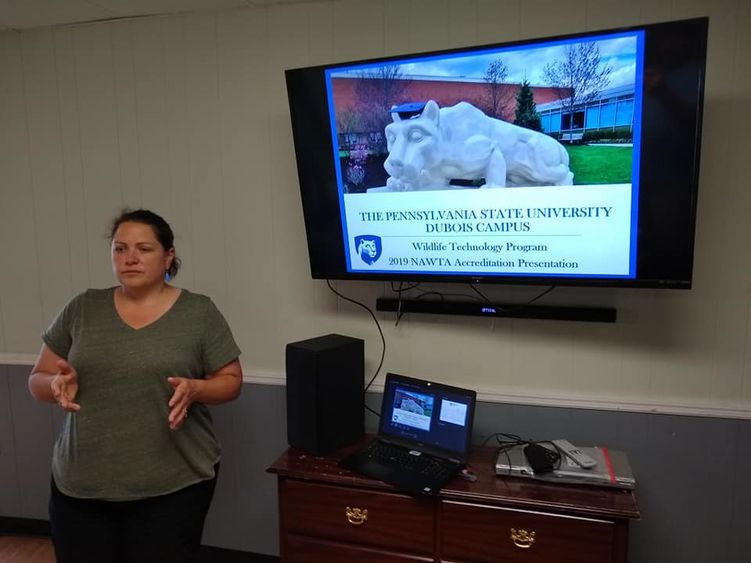 DUBOIS, Pa. — This summer, the Penn State DuBois Wildlife Technology Program earned a continued five-year accreditation with the North American Wildlife Technology Association (NAWTA).
Founded in part by a former Penn State DuBois faculty member in 1984, NAWTA accredits hands-on, technical programs in Canada and the United States that demonstrate updated curriculum, current technology and concepts, and professional development. The Penn State DuBois Wildlife Technology Program has been accredited by NAWTA for 35 years, and it is the only accredited two-year program in Pennsylvania.
"Our relationship with NAWTA is extremely important for the maintenance of relevant concepts and techniques. We learn what other institutions are teaching, what is regionally important for schools, what new labs or equipment they are using, and what their graduates are saying," said Keely Roen, assistant teaching professor in the Wildlife Technology Program.
"NAWTA reviews our curriculum in a variety of categories from field techniques and professional communication to mechanical skills. Earning accreditation tells us that we are doing what we should be doing for our students and we are meeting their high standards," Roen said.
Roen recently traveled to Central Carolina Technical College in Sumter, South Carolina, where she made presentations about the program before the NAWTA accrediting board.
"While I did the presentation, it is really my colleagues Emily Thomas, Carrie O'Brien and Nate Weyandt that make the program the success it is," Roen said. "We have a smaller budget and more students than almost all the other accredited programs, and we have made it work."
There are approximately 20 programs accredited through NAWTA in the U.S. and Canada at any time. Seven colleges presented at this year's conference, with five earning multiyear accreditation, including Penn State DuBois. Five years is the maximum term of accreditation that can be earned.
According to NAWTA, its accreditation standards ensure that graduates of accredited institutions possess requisite skills sought after by employers to meet the increasingly diverse needs of society and the profession of wildlife and fisheries science and management.