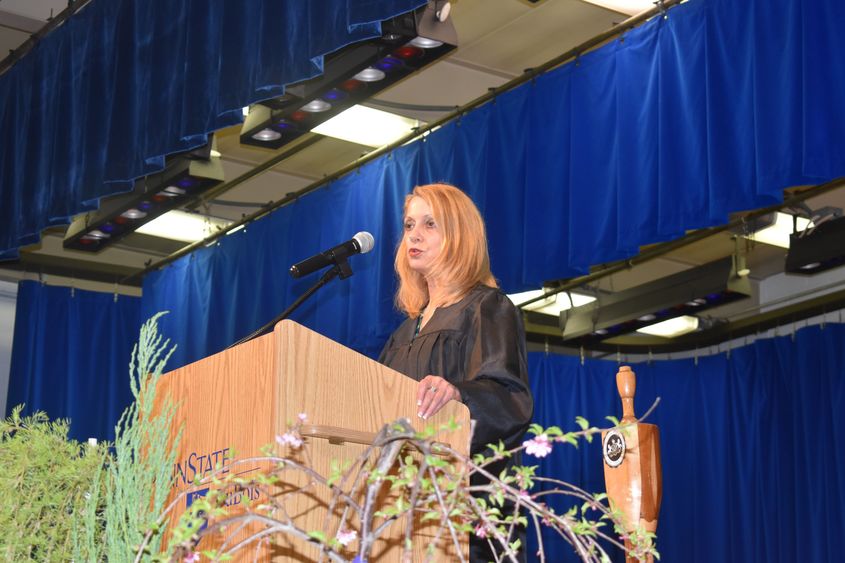 DUBOIS, Pa. — Members of the Penn State DuBois class of 2019 officially joined the Penn State alumni community on Friday evening, May 3, as commencement ceremonies were celebrated in the campus gymnasium. Chancellor M. Scott McBride presided over the ceremonies, with Professor Arshad Khan serving as faculty marshal. Special guest speaker Joyce Fairman provided the commencement address. Music for the ceremony was provided by the Penn State School of Music Graduate Brass Quintet. Academic achievement awards were presented to Makayla Whaling, for associate degrees, and to Kyle Bear, for baccalaureate degrees.
Fairman, a philanthropist, businesswoman and community leader, is a longtime supporter of Penn State DuBois. She serves as a member of the Penn State DuBois advisory board, the DuBois Educational Foundation, and co-chairs the campus' current capital campaign, "A Greater Penn State for 21st Century Excellence." With her support, in 2013 the Fairman Family Foundation largely funded the renovation of the Alan R. Fairman House at Penn State DuBois, named in honor of Joyce's late husband, giving the former residential home new life as a center for the campus Honors Scholars Program. The Fairman Family Foundation also has sponsored the Best Robotics competition for middle and high school students, which is held on campus each fall, and established the Fairman Family Trustee Scholarship at Penn State DuBois.
With her high level of involvement at Penn State DuBois, Fairman knows well the challenges students can face while earning a degree.
"I would like to congratulate all of you on an extraordinary accomplishment," Fairman told the graduates during her address. "Many of you had full- or part-time jobs while attending school. Or took care of families. Or played collegiate sports. All of you worked very hard for this day. A lot of sacrifices economically and socially."
Fairman went on to share personal stories about herself, her late husband, and life. She shared insight on the importance of support like she received as an undergraduate, and urged the class of 2019 to remember those that supported them.
"I was very grateful for the grants and scholarships I received. They made the difference in my life and allowed me to graduate," Fairman said. "Last year I attended the Penn State DuBois scholarship luncheon and heard directly from the students who received my family's scholarship and what a difference it made to their lives. Powerful stuff. When you are able, you can give back to your high school, or your university and mentor students, or help financially support students so they can achieve their educational goals."
In addition to her philanthropy and involvement at Penn State DuBois, Fairman also serves as a member of the Penn Highlands DuBois Board of Directors, and the Council of Trustees for Indiana University of Pennsylvania, where she is treasurer and chair of the Enrollment Management Committee. Additionally, she is treasurer of the St. Catherine Church Fundraising Committee, and treasurer of the Association of Women Investors Organization. Formerly she served as a board member for the DuBois Area YMCA, DuBois United Way, and the DuBois Public Library.
Fairman earned her bachelor's degree in sociology with a minor in psychology from Indiana University of Pennsylvania, where she also earned an MBA. Fairman is self-employed in the oil and gas production industry as part owner of Fairman Corp., works as the accounting manager for DuBois Dermatology and Cosmetics, and serves as president of the board of the Fairman Family Foundation. Previously she served for 20 years as accounting and systems manager at Atlas Pressed Metals. She has two children, Derek Fairman, and wife Lindsay; and Lisa Fairman Pfingstler, and husband Jude. She has seven grandchildren: Tyler, Reed, Avery, Zachary, Emma, Xavier and Jordan.
Penn State DuBois' 2019 graduates are:
Graduate School - Black School of Business
Degree of Master of Administration
Business Administration
Raymond Serafini, Brockway
University College
Degree of Bachelor of Arts
Administration of Justice
Melody Young, Duke Center
Degree of Bachelor of Science
Administration of Justice
Business
Caleb Dugan, Lanse
Brandon Gettig, Bellefonte
Shane Haberberger, Saint Marys
Taylor Hepler, Falls Creek
Daniel Hinton, Saint Marys
Alexander Jaggi, DuBois
Jacob McLaughlin*, Brookville
Jamie Turner, Luthersburg
Kristen Williams, Sugar Grove
Human Development and Family Studies
Austin Amacher*, Ridgway
Garrett Brown, DuBois
Sierra Hanes (Cum Laude), Grampian
Bryce Hanley, Beech Creek
Raven Ingram, Brookville
Samantha Miller, Woodland
Lamanda Perry, Clearfield
Thomas Plummer*, Shippenville
Olivia Reitz*, Summerville
Jodalynn Warholak*, Clearfield
Information Sciences and Technology
Ethan Clark, Grampian
Kevin Decker, Curwensville
Jeffrey Gasbarre, DuBois
Matthew Roy, DuBois
College of Engineering
Degree of Bachelor of Engineering
Engineering
Kyle Bear (Cum Laude), DuBois
Brandon Cressley, Rochester Mills
Andrew Serafini, Brockway
Tyler Young, Punxsutawney
University College
Degree of Associate in Arts
Letters, Arts and Sciences
Degree of Associate in Science
Business Administration
Natalie Dewyer (Cum Laude), DuBois
Zachary Pomeroy (Cum Laude), DuBois
Stephen Rutherford, DuBois
Garret Weaver, Punxsutawney
Human Development and Family Studies
Cody McClintick, Falls Creek
Information Sciences and Technology
Zachary Jones, Anita
Hannah Pletcher, DuBois
Physical Therapist Assistant
Kaylee Beck, Brockway
Ryan Blochberger, Brookville
Jenessa Ceprish, Allport
Nathan Halowell, Falls Creek
Dana Huber (Summa Cum Laude), Sprankle Mills
Rebecca Maine (Magna Cum Laude), Pittsburgh
Caleb Smith, Punxsutawney
Destinee Smith, Ridgway
College of Agricultural Sciences
Degree of Associate in Science
Wildlife Technology
Steven Abrahamson, Wilcox
Katelyn Blystone, Smicksburg
Hope Bridge, Punxsutawney
Emily Byron, Genesee
Casey Grove, Williamsburg
Nicholas Harris, Phoenixville
Jeremiah Irvin, Johnstown
Tyler Kauffman, Mahaffey
Lance Pennington, Anita
Morgan Silvis, Tionesta
Ryan Spencer, Clearfield
Makayla Whaling (Summa Cum Laude), Luthersburg
Paul Wheaton, Sykesville
Ryan Witham, Ebensburg
Jacob Wolfe, Sunburya
College of Engineering
Degree of Associate in Engineering Technology
Mechanical Engineering Technology
Matthew Agosti, Penfield
William Brumbaugh, Adrian
Brandon Cressley*, Rochester Mills
Kristal Gross, Rew
Michael Kessler, Rimersburg
Dylan Kriner (Cum Laude), DuBois
Nathaniel McGary, Big Run
Joseph Pyke, Grampian
Bernard Rauckhorst, Grampian
Tyler Young*, Punxsutawney
*Indicates summer graduate