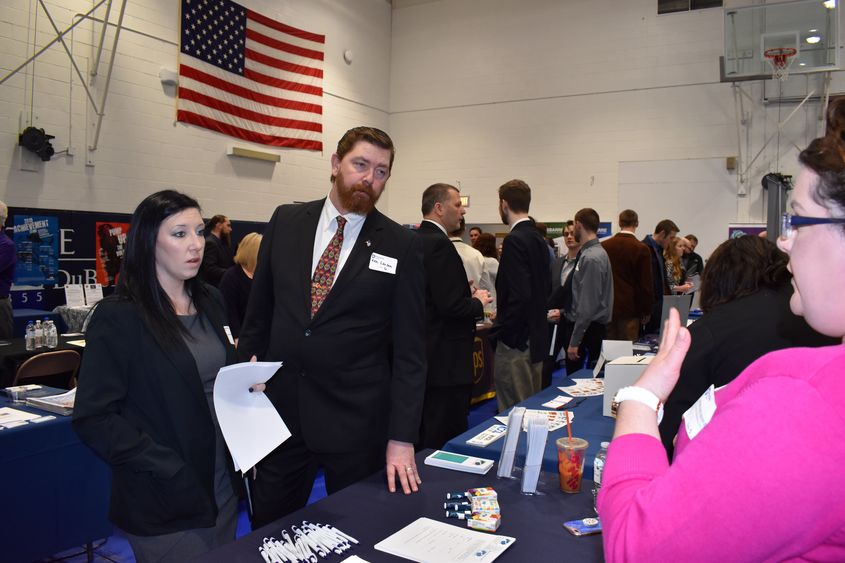 A unique opportunity for career exploration was attended by nearly 100 Penn State DuBois students on Wednesday. The Networking Luncheon and Career Fair, organized by the campus Office of Career Development, featured more than 50 companies looking to recruit new talent. The career fair setting allowed students to meet and network with employer representatives and discover what kind of career opportunities those companies currently offer. The career fair was also open to members of the public, allowing anyone in the community the chance to help further their career.
The Networking Luncheon for campus students was held prior to the career fair and is intended to take the entire event to a higher level of quality for those attending. Business representatives were seated with students whose major aligned with the education those businesses look for in potential employees, giving students an additional, and more intimate, chance to interact with people already working in their fields of interest.
Penn State DuBois Career Development Coordinator Anna Akintunde explained, "Networking is the most effective way of landing a job. It doesn't matter whether you are a freshman or a senior, it offers you the advantage of networking and building relationships that may lead to great opportunities whether that be an internship or a new job upon graduation. Students who have attended in the past have described the Networking Luncheon as not only a great way to connect with opportunities, but an excellent way to meet employers and talk more personally with them in a low-pressure and relaxed atmosphere. The job fair offers yet another opportunity for networking while also providing you the ability to gather field specific information in a time effective and less costly manner."
Students who attended both the Networking Lunch and the job fair said this event provided very real opportunities in future employment. Junior in the Administration of Justice program Duncan LaValle, of Ridgway, said, "This helps connect students with possible employers in an atmosphere where they are not limited on options. There is a lot of variety in the kind of companies here." LaValle added, "And it's not just for junior and seniors, even freshmen deciding what they want to do can get ideas here about what's out there for jobs and even internships."
Stephanie Fegert, a human development and family studies junior from Curwensville and military veteran said, "This is literally a room full of opportunity. You get face-time and immediate, in-person interaction with employers." And, Fergert's fellow veteran and HDFS student Ken Larsen, from Reynoldsville, added, "Yes, you get to meet directly with representatives from local business and that really furthers your search for jobs."
New for this year was the Career Closet on campus, that offered a selection of donated, professional clothing to students preparing for job searches. Students were able to find clothing items, free of charge, in preparation for meeting with employers at the career fair, and for future job interviews.
This event was sponsored by the DuBois Educational Foundation, the Penn State DuBois Alumni Society, Brookville Equipment Cooperation, and the Blue and White Society.
Akintunde said making contact at events like this is proven to produce results on both sides of the job market. The data she collected from this event last year shows that of those in attendance, 78 percent of employers said they left with potential hires, 69 percent of employers said they left with potential interns, 35 percent of students said they left with potential employment, and 79 percent of students said they left with an internship lead, which could possibly lead to full-time employment.