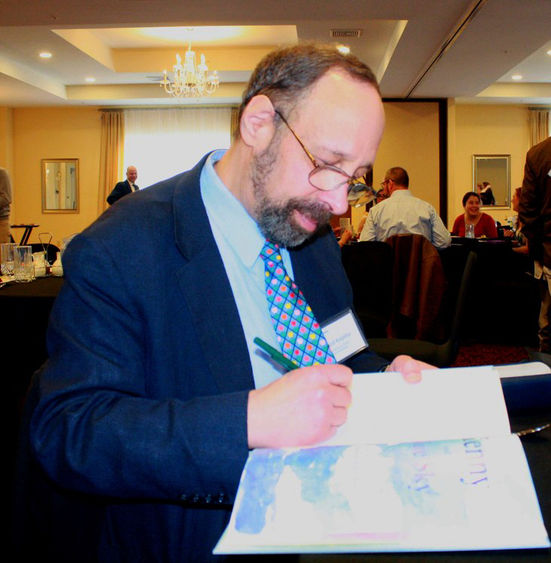 DUBOIS, Pa. — Retirement often gives people a chance to pursue interests outside of their career field. For Distinguished Professor of English Emeritus Richard Kopley, retirement has meant building upon his career accomplishments. He has continued his dual track of scholarship and fiction. While at Penn State DuBois, he published on Edgar Allan Poe and Nathaniel Hawthorne, and he published short stories and a children's picture-book, as well. Since retiring, he has gone on to publish further on Poe and Hawthorne and has published additional short stories and another children's picture-book.
"Kenny and the Blue Sky" (Eifrig Publishing LLC) will be released on June 15. It follows "The Remarkable David Wordsworth" (Eifrig Publishing LLC), which Kopley published in 2013.
"Blue Sky" follows Kenny, a young boy who dreams of being able to reach, touch and be in the sky. Through the wonder of a child's view, the sky lowers itself one afternoon, allowing Kenny and his family and friends to experience the sky as no one else ever has.
The inspiration for this story, Kopley explained, came from very personal sources. And though he spent many years studying American literature, Kopley has had a lifelong dream of publishing children's picture-books, having actually written "Blue Sky" nearly 30 years ago.
"It comes from my memories of being a three- or four-year-old boy in the backyard of our garden apartments in Watertown, Massachusetts," Kopley said. "My family then moved to New York City, but I carried with me this memory of the grass and the trees, and looking up at the sky, and I cherished it as the root of my life."
Kopley recalled his own childhood desire to touch the sky. He said, "You can see the sky, but you can't touch it. It's like having a friend, but you can never have him over to the house."
Pouring even more of himself into the project, he sent digital photos of himself in his Watertown backyard to Bucks County illustrator Jane Ramsey.
"I got the name of the illustrator from the publisher, Eifrig Publishing in Lemont, Pennsylvania," Kopley explained. "I sent her photographs of me and other kids in our backyard in 1953 and 1954. So, she was able to see this world. She blended my experience and her own to develop these beautiful illustrations."
Kopley originally wrote the book in 1990, but a number of early attempts to get the book published were not fruitful.
"I sent it to agents and editors with no success," Kopley recalled. "One reason I think I didn't have success is that it's not like other stories. There's no conflict. Every page is happy. They say you need to have conflict in storytelling. Maybe that's why."
So, with the printing of this deeply personal effort comes the realization of a decades-long dream for Kopley.
"This is something I've carried in my head for 60 years, and now here it is on paper," he said. "I'm glad it exists. It's a story I have remembered my whole life and it shaped me."
The distinguished professor's desire to produce children's literature is almost as long-running as the memories his latest effort is based upon.
"I was a big reader of children's books, and my mother was a great encourager. I would read whatever was available," Kopley said. "The culminating experience was when I was 10, and I was standing in the children's area of the library, and I realized I'd outgrown it. And I'd read all of the books there." With a chuckle, Kopley continued, "I told myself, one day when I'm a famous writer, I'll write books for children and provide them with what other people had provided for me."
Though children's literature differs in many ways from the great works of American literature that Kopley studies, he does draw parallels. Using personal experiences to shape his work as Kopley did with "Blue Sky," for example, is something Poe often did in his writing.
Before finding success in children's literature, Kopley was already an internationally known author and literary scholar due to his expertise in classic American Literature.
One of the foremost experts on Edgar Allan Poe, Kopley's published works include "Edgar Allan Poe and the Dupin Mysteries" (Palgrave Macmillan), an in-depth look at Poe's detective stories, which inspired the entire detective genre. Kopley's book analyzes the structure, sources, and autobiographical significance of these stories, and points to the strong influence they have had on the detective literature that would follow, including Sir Arthur Conan Doyle's stories about Sherlock Holmes.
Kopley has contributed to numerous journals and magazines as an expert on Poe's work and has spoken about his research at international conferences. He has also been interviewed for articles that have appeared in such publications as U.S. News and World Report.
He previously taught at Illinois State University before coming to Penn State DuBois in 1983.
Kopley graduated from New Rochelle High School in New York in 1967, where he returned each year from 2000 to 2015 to chair a panel of literary experts who shared their knowledge with the high school students.
From New Rochelle High School, he went on to study English at Brandeis University in Massachusetts. He earned his master's degree in English at Teachers College at Columbia University, and eventually a doctorate from the State University of New York at Buffalo, where he also taught while completing his degree.
"Kenny and the Blue Sky" will be released June 15.