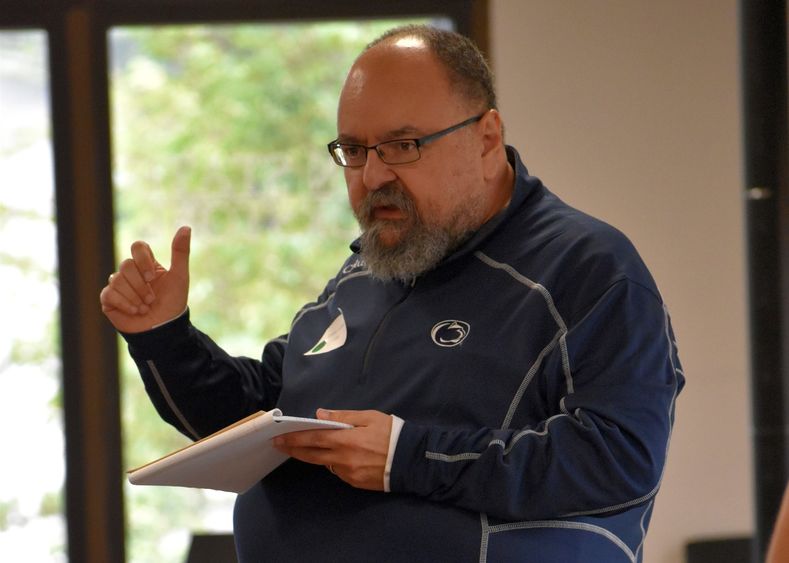 DuBOIS, Pa. — The work of a Penn State DuBois faculty member has caught the attention of WPSU radio and this year's Penn State Laureate. A poem titled "Why I hate Clowns" by Associate Professor of English Tony Vallone will be featured on the WPSU show "Poetry Moment" on Oct. 4. The show runs Mondays at 7:45 a.m. and 4:44 p.m. and can be heard in State College at 91.5 FM and in DuBois at 92.1 FM. It will be streamed here and archived on the WPSU webpage following the program.
Vallone has taught English at Penn State DuBois for 32 years, in addition to serving as an academic adviser for students. He also is the co-coordinator for the campus' Letters, Arts, and Sciences program. Vallone manages his own publishing company, MAMMOTH Books, through which he has published the work of his students, alumni and other talented contributors. He also serves on the board of directors for the Watershed Journal, a quarterly publication that provides an outlet for individuals throughout northwestern Pennsylvania to have their work published.
"I was totally shocked and delighted when I was contacted by the 'Poetry Moment' team," said Vallone. "'Why I Hate Clowns' first appeared in the first electronic issue of Brevity, edited by Dinty Moore, who was at that time teaching at Penn State Altoona and has now just retired from Ohio University. Even Brevity itself has grown from a general literary magazine into the premiere electronic literary margarine for short creative nonfiction.
"Later, 'Why I Hate Clowns' was published in Golden Carp, one of my small press publications. How Shara even found it and why she chose it is a mystery to me, but I'm honored that she did. I guess I'll need to listen in to find out how and why, and what she has to say about the poem."
Shara McCallum, who Vallone refers to, is the 2021-22 Penn State Laureate. The Penn State Laureate is an honor bestowed to one full-time faculty member each year to bring greater visibility to the arts and humanities, to Penn State, and to the faculty member's work. During her tenure, McCallum will conduct writing workshops and make numerous speaking engagements throughout Pennsylvania and elsewhere. She is scheduled to speak at Penn State DuBois during a lecture for students, faculty and staff on Oct. 6. McCallum also showcases the works of other Pennsylvania poets as host of "Poetry Moment," a duty she will fulfill during her tenure as laureate.
An Edwin Erle Sparks Professor of English at Penn State University Park, McCallum, originally from Jamaica, is a poet who has authored six books and has had poems and essays published in journals, anthologies and textbooks throughout the United States, the Caribbean, Latin America, Europe and Israel. Her latest book, "No Ruined Stone," which was just released last month, is a "novel in verse" based on a thread from the life of Scottish poet Robert Burns, who was considering migrating to Jamaica to work on a slave plantation around the same time his first book was being published in 1786.